Accommodation

Summary
Each year the Festival welcomes many participants. For your own comfort, reserve your accommodation as soon as possible!
Don't hesitate reserving accommodation lakeside!
Accommodation in Annecy and around the lake
Lac Annecy Tourisme & Congrès offers a selection of accommodation with rooms for Annecy 2023 delegates.


The list is updated regularly.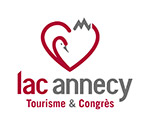 Lac Annecy Congrès
+33 (0)4 50 45 00 70
1 rue Jean Jaurès
74000 Annecy
organisation@lac-annecy-congres.com
L'Impérial Palace****
The Mifa (Film Market) site
The Impérial Palace is fully booked throughout the Mifa.
Don't hesitate to contact the reservations department on +33 (0)4 50 09 31 20 or reservation@imperialpalace.fr, who will be able to put you on the waiting list and contact you in case of any cancellations.
Lac d'Annecy Tourist Information Office
On-site last-minute accommodation bookings: the team at the Lac d'Annecy Tourist Information Office at the Centre Bonlieu is ready to help from 13th to 16th June, 9 am to 6 pm non-stop.
+33 (0)4 50 45 00 33
1 rue Jean Jaurès
Centre Bonlieu
74000 Annecy