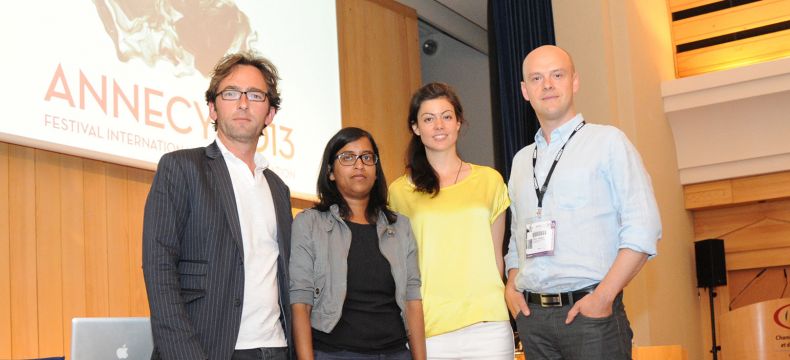 Anatomy of a European Feature Studio: the Danish Example
Contents
First founded in Denmark in 2006, Copenhagen Bombay has become a holding company that covers development, production, distribution and sales of its IPs, for which it holds the entire rights chain in a virtuous trans-media-oriented ecosystem. Thanks to its operational synergy, Copenhagen Bombay is able to keep a cap on its production costs and develop new multi-platform projects of international reach.
Speakers:
Owner CEO
Copenhagen Bombay

Denmark

Biography

Sarita Christensen works for Copenhagen Bombay on science fiction and cross-media projects for young children based on new platforms and media.

Producer
Copenhagen Bombay

Denmark

Biography

Petter Lindblad has been a producer at Copenhagen Bombay since January 2007. Since 2011, he has been in charge of the Swedish branch of Copenhagen Bombay Sweden AB.

He is known for The Secret of the Ice Flower (2012), The Great Bear (2011), The Apple & The Worm (2009), Carsten & Gitte's Movie Madness (2008) and Island of Lost Souls (2006).

Head of Sales


Denmark

Biography

Malene Iversen has been the Head of Sales since 2010, when Copenhagen Bombay Sales ApS was established to optimize the distribution of the company's projects in Denmark and abroad.

Contact
Moderator:
Journalist, Media Consultant
Prop'OSE

France

Biography

A journalist and cross-media consultant for press relations, Stéphane Malagnac has 17 years of experience in the fields of broadcasting, visual effects and animation. He founded Prop'OSE in 2010 and collaborates as a consultant with European animation studios and other international companies working in imagery.
Key words
Copenhagen Bombay, Christensen, Iversen, Lindblad, Toft Jacobsen, Beyond Beyond, trans-media, ecosystem, synergies, intellectual property, IP.
Many animation studios are experiencing difficulties tied to issues of financing, lack of creativity, or poor strategy. Yet there are others which serve as examples, not necessarily for their own model to be copied, but for using it as inspiration. The Danish (and Swedish) company Copenhagen Bombay is one of these.
Copenhagen Bombay and its ecosystem
Copenhagen Bombay was started in 2006 by Sarita Christensen, the current CEO, and Anders Morgenthaler, both previously from Zentropa, Lars Von Trier's company, and more specifically its animation subsidiary. Today, with headquarters in Copenhagen and a second entity in Sweden, Copenhagen Bombay has eleven salaried employees, a pool of nine writers and about fifty animators, for a total 3.355 M€ in 2012 sales. Specialized in youth animation, the studio has made its mark via quality feature films with well-mastered costs, not only distributed locally but also internationally.
Sarita Christensen explains it: "When we set up the structure, we imagined an ecosystem with a group of writer-directors at our sides to develop their own ideas but also to handle other projects. We also wanted to be surrounded by a stable team to be players in our development. We created an in-house animation studio to avoid having to pay for more costly services. And in 2010 we opened an international sales arm, once again to be able to control our productions. Right now DVD sales represent its main sales figures. Last of all, we designed a Danish-based distribution network, meaning that Copenhagen Bombay can be involved from a project's start to its finish."
At the present time, Copenhagen Bombay exists as a holding company, with four independent units covering the ecosystem's main focal points: Copenhagen Bombay Rights, for acquiring and developing works; Copenhagen Bombay Productions, for making 2D, 3D and 3D-stereoscopic projects; Copenhagen Bombay Sverige AB, which is the Swedish subsidiary for stimulating production capacity and enabling co-productions between the two countries; Copenhagen Bombay Sales, for distribution in Denmark and international sales.
The key to it all: IP
IP or intellectual property: it is on this very point where Copenhagen Bombay is no longer aiming just to develop a work but rather a brand that can be rolled out in the form of books, films, TV fiction pieces, mobile and pad applications, the Web, merchandising or theatrical release. This holds true, no matter what type of work is at the core of the 360° concept.
"The value chain that we've implemented is based on developing projects for which we immediately seek financing", states Sarita Christensen. "Our sales director Malene Iversen intervenes very early on in the process, even if the distribution occurs more at the end of the line. She manages pre-buys and allows us to get a better idea of a project's financing or of any positive fallout which might benefit the next project in line. The production phase is then done, followed by the actual sales and distribution. For this last point, as well, we envision all possible broadcasting windows."
The concept of cross-media is naturally taken into account, and at the signing of the contracts Copenhagen Bombay ascertains that all rights have been secured for all possible platforms.
The Apple & the Worm: a rationalized production
The Apple & the Worm (Æblet & ormen) is a feature film produced by Copenhagen Bombay in 2009. It is assisted by a partnership with the Coop-named cooperative stores with the aim of ingraining responsible eating habits in 5 to 9 year-olds. On this particular project, Copenhagen Bombay handled the visual identity, character design, printed advertisements, all packaging, the Web site, promotional clips, the animated feature, with the rights to all of the licensed products (toys, underwear, etc).
"The film came out in theatrical release", says Malene Iversen, "then the DVDs were sold through the Coop agreement. One of the interesting points is that we went even further, by providing packaging in the shape of plastic water bottles with fruit and vegetable decorations in the film's colors, sold through Coops fresh-produce departments. By developing this synergy linking the film to the concept of healthy food, revolving around The Apple & the Worm brand, we were able to increase the IP's global revenues while showcasing our values."
Cobos Bio: from short film to movie brand
In another example of tweaking the value chain of a property, Copenhagen Bombay founded a label for distributing animated shorts through a group of movie houses. "It all began in 2012 with the film by Jacob Ley, The Secret of the Ice Flower," explains Malene Iversen. "The fact of distributing short films in theaters turns out to be highly complex and not very lucrative for a producer, outside of any broadcasting income. So we decided to bring together a program of short films targeting 3- to 7-year olds and we combined these as feature films under the label Cobos Bio and distributed them through specific Cobos cinemas."
The first screenings took place in twelve Danish theaters on December 25, 2012, and then moved on to 25 theaters, with showings only during weekends and holiday periods. "The idea is to reinforce the distribution of these films with one or two new releases per year, and to then broadcast them through the TV channels and VOD."
The power of authorship
One of the many striking things about Copenhagen Bombay is that it counts on a large pool of authors who are housed in the studio in order to develop their ideas for shorts, features, series or interactive projects.
"What matters is to be able to provide them with an environment that is conducive to the hatching of their projects, while working along the same lines as them," states Petter Lindblad.
Esben Toft Jacobsen is one of this group. After studying visual communications, he obtained his animation directing degree at the National Film School of Denmark in 2006. His graduation film, Having a Brother, received an honorable mention at the 2007 Berlinale. It was at this time that he became part of the Copenhagen Bombay team. Next, he directed the short Kiwi & Strit (2008) and the feature The Great Bear (2011). At present he's producing his second feature film, in stereoscopic 3D, called Beyond Beyond, planned for a 2014 release.
In Having a Brother, the main character is a hedgehog named Morten. The latter was chosen to serve as the generic model in an innovative concept for teaching stop motion animation: Film in the Suitcase. "The idea was to provide a briefcase containing an 'animate-able' model of Morten, the backgrounds and props, with everything designed so that an iPad could be used by school children to make frame-by-frame short films. This operation was developed in-studio and received funding from the Danish Film Institute. The project may also perhaps be rolled out as a TV series."
In 2008 the CGI short Kiwi & Strit, by Esben Toft Jacobsen, blazed the trail for development of a TV series. "For each project, we begin by determining the best possible production method," explains Petter Lindblad. "Here we tested the concept in 2D for reasons of cost, but it was not fully convincing. So we chose to come back to CGI because what counts most is the quality of our offer. In Kiwi & Strit, we detected some interesting avenues to explore, especially in the game field. With backing from the MEDIA Programme we therefore developed a child-targeted game demo on Wii, using a system of ten mini-games – five more action-packed while in the spirit of the Strit character, and five others, more thought-provoking and calm, like Kiwi."
The Kiwi & Strit license does not end there: a series of 26x5' is now in progress, with six scripts already finalized, five animatics, thirteen scenarios, animation tests, and a game demo. The series will be presented at MIP Junior in October 2013.
And to round off the full ecosystem, Copenhagen Bombay plans to use the same production pipeline as… Beyond Beyond, the upcoming 3D stereoscopic feature by… Esben Toft Jacobsen!
Beyond Beyond: and beyond Denmark
Beyond Beyond, the second feature by Esben Toft Jacobsen, is an 80-minute family film targeting 6 to 9 year-olds. "It's already been pre-sold in nine countries," adds Malène Iversen. "This will be the first 3D-stereoscopic feature film ever made in Sweden, with two-thirds of the production being done in Sweden, and the rest being done in our Danish studio," for a 2.8 M€ budget. Just as for the other IPs of Copenhagen Bombay, Beyond Beyond will be available as a point-and-click game on pads, to be released simultaneously. "The development phase was financed through the MEDIA Programme."
Questions to Sarita Christensen, Malene Iversen and Petter Lindblad
What is the share of public money in your projects' financing?
This can reach 60% for some, if you count the TV stations.
How is the production team of Beyond Beyond structured?
We have eight animators in all, for a production time that's about eight seconds/animator/week.
Viewpoint: Marc Bonny (Gebeka Films, France)
What counts in Copenhagen Bombay's approach is their capacity to function both as producers, distributors and sales agents for their projects. They're in step with the whole sector and their economic approach is decisive to their success.
Drafted by Stéphane Malagnac, Prop'Ose, France
Translated by Sheila Adrian
The Annecy 2013 Conferences Summaries are produced with the support of:
Conferences organized by CITIA 
under the editorial direction of René Broca and Christian Jacquemart
Contact: christellerony@citia.org