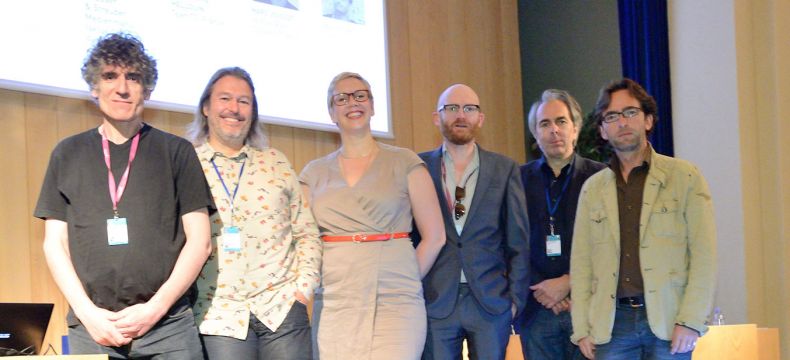 Feature films: case studies
Contents
To finance the four feature films presented at the conference, with budgets from 5.5 to 10 M€, co-productions with three to four other countries were indispensable. Only TeamTO, with Yellowbird, chose to produce all of its pictures in France, with the sound being relocated to Belgium. Aware that France is a country where "it's easier to obtain a good level of financing," Guillaume Hellouin does not reject the idea of international intervention, but for distribution. The others: Je suis bien content (A Rigged World), Knudsen & Streuber and Walking The Dog (Richard the Stork) and Cartoon Saloon (Song of the Sea) chose to relocate all or part of their film-making in relation to financial investing.
Moderator:
Journalist-Consultant
Prop'OSE Communication

France
Key words
Walking The Dog, TeamTO, Je suis bien content, Knudsen, Cartoon, Saloon, Richard, Stork, song, sea, Yellowbird, world, rigged, Tardi, co-production, ToonAlliance
Richard the Stork

Richard the Stork is an animated 3D stereoscopic feature produced by Knudsen & Streuber Medienmanufaktur and Ulysses Filmproduktion (Germany), in co-production with Walking The Dog (Belgium), Mélusine Productions (Luxemburg) and Den Siste Skilling (Norway). Richard is an orphaned sparrow adopted by a stork family. When the family decides to fly off on their long migration, they're obliged to tell him the truth of his adoption. But Richard is fully determined to remain a stork and reunite with his adopted family in Africa.
Endowed with nearly a 10 M€ budget, Richard the Stork is the first animated feature film of Knudsen & Streuber, which until then had produced live-action shoots. "We chose to produce this film since we wanted to diversify our slate, without necessarily we are embarking on a grand adventure," Kristine Knudsen tells us. The structuring of the co-production was based on artistic, technical and economic considerations. This feature film is co-financed by Germany for 35% (German Federal Film Board, Medienboard Berlin- Brandenburg, Filmförderung Hamburg- Schleswig Holstein, Commissioner for Culture and the Media, German Federal Filmfund), 33% for Belgium (Screen Flanders, Fortis Film BNP), 20% for Luxemburg (Film Fund Luxembourg ) and 13% for Norway (Norwegian Film Institute, FUZZ) and Eurimages, in addition to Distributors, TV partners and world sales Global Screen. Eric Goossens tells us: "The financial construction took fourteen months: five German regional and state funds; Fuzz, a Norwegian investment fund; plus backing from Eurimages."
This investment split corresponds to a production share-out between five studios based in Germany, Belgium, Luxemburg and Norway.
Studio Rakete, located in Hamburg, had already cooperated on two feature films, Niko and the Way to the Stars and Legends of Valhalla: Thor directed by Toby Genkel, co-director for Richard the Stork. On the latter project, Studio Rakete created most of the character design, as well as the storyboard, stereoscopic layout and some of the animation.
Ulysses Filmproduktion, the co-producer on Richard the Stork, has already produced the animated features 'Niko & The Way to the Stars', 'Niko 2 – Little Brother, big Trouble', 'Legends of Valhalla – Thor' and recently 'Ooops! Noah is gone…'.
Studio 352, a subsidiary of the Luxemburg producer Mélusine, handles the art direction, design of the sets and some characters, modelling, rigging, layout and animation. In Belgium, Walking The Dog installes the DVT (Digital Video Live Transcoder). This studio founded by Eric Goossens also does a work-split for lighting/shading, compositing and rendering with Rise, one of Germany's largest VFX studios with production entities in Berlin, Cologne, Vienna and Halle. Finally, the Norwegians of Bug manage the animation, post-production and post-synchronisation.
From its inception Richard the Stork had been designed as a cross-media project with a digital angle (social networks, website, games) as well as a more traditional one (books, sound track, merchandising). Last of all, it takes an educational approach centred on nature conservation.
A Rigged World

A Rigged World is a 2D/3D feature film instigated by Jacques Tardi, the French comic book author. Winner of the 1985 City of Angoulême Grand Prix and of two Eisner Awards in 2011, Jacques Tardi created the Adèle Blanc-Sec heroine and is the author of numerous works on WWI. In A Rigged World, he follows a young girl who's searching for her missing scientist parents in the heart of a steampunk and 'uchronic' Paris, with Napoleon VI and steam hanging heavy over it. The film is being produced in France by Je suis bien content (JSBC) and STUDIOCANAL, by Kaïbou Production in Canada and Need Productions in Belgium. At present, the project is in the animation stage.
Je suis bien content had previously worked with a comic book artist, Marjane Satrapi, on her adaptation of her own graphic novel, Persepolis. The director Marc Jousset (also cofounder of JSBC with Franck Ekinci) explains the context: "For Tardi's project we began by making a pilot in traditional animation but we soon realised that for logistics reasons it would be too much to try to produce a feature such as this using traditional animation." So the digital option was an obvious choice even if "Tardi's drawing style is highly spontaneous and we needed to be sure we could reproduce it in animation." Tardi was quite present during the start-up of the project for the character and background designing phases but progressively stepped back. After that, monthly meetings between him and JSBC were sufficient for approving or modifying the various production phases.
With an estimated 9 M€ budget, Je suis bien content was obliged to consider co-production since "above 5 M€ it's impossible to single-handedly finance an animation movie", notes Marc Jousset. He stressed that when Arte, the French-German channel, signed on for the co-production it was "a first for animated film-making."
The production was also distributed among studios from different countries. "Our job was to supervise all the production steps: the layout and poses are done in Paris, as well as the modelling of the 3D elements including the steam vehicles. Moreover, 50% of the 2D animation is managed by JSBC." The 3D animation was entrusted to TTK in Canada. In Belgium, Waooh!, another studio belonging to the ToonAlliance network (like TTK), took charge of the background and set designs, working with the French Lille-based Tchack company. Last of all, the compositing went to the Belgian Digital Graphics studio.
Voice casting was also geographically distributed, correlated to the work-split and the financing. For Avril, the main character, the voice is done by Marion Cotillard, accompanied by Jean Rochefort. The cast is completed by both Belgian (Bouli Lanners, Olivier Gourmet, Anne Coesens) and Canadian (Marc-André Grondin) actors.
A Rigged World should be released in France in the second half of 2015.
Yellowbird

TeamTO, a French studio specialised in TV series, was started in 2005 and is headed by Guillaume Hellouin. Yellowbird is the first 3D stereoscopic feature for this independent producer who teamed up with Haut and Court for the occasion.
All of the images are made in France, between Bourg-lès-Valence and Paris. Music recording and sound post-production will be done in Belgium. "Choosing to localise all of the feature film-making in France was a first for us, meaning that we had to adjust our pipeline quite a bit", Guillaume Hellouin admits.
The goal was to have a pipeline flow in which each sequential step could be checked, just as was already done for our series: "Thanks to automated scripts we're able to reduce all the side tasks, saving time by relying on machine time." Two needs soon arose. First of all, this required "much greater flexibility than what we already had. Secondly, this flexibility needed to accommodate the fact that we might intervene back upstream again on production should need be felt, something which is rarely the case for TV productions."
In addition to being flexible, the pipeline had to be much sturdier than for a series: the production forecast was for 500 To of data before the end of production! Three major solutions were developed to meet these challenges:
A dynamic feathering tool: because the feathers were non-lifelike, TeamTO was not able to use software that produces "fur", such as the coat of a Yeti, for example. "We were not able to rely on clothing management tools either, since there were up to 2,000 feathers per bird." TeamTO worked with the Grenoble Inria centre to design a system for simulating flexible shafts to suit production needs, even going so far as to consider different weather conditions over the course of the story because this, too, would impact how feathers react.
Volume-based cloud tools: TeamTO perfected a cloud "bank" with modifiable parameters changing cloud shapes, densities, movements, etc. The studio also designed a render dispatcher to help manage the cloud renders and control the light diffraction. "We separated the render engine allotted to clouds from their shadows," Guillaume Hellouin relates. Likewise, the compositing was equally stepped up by taking into account Z (for depth) in order to obtain "deep-down compositing, especially important in a stereoscopic film."
3D stereoscopy: TeamTO already possessed its own in-house tool: "less time-consuming than other off-shelf solutions. The proof: it takes us a half-day of work per sequence versus a full week with the others."
The Song of the Sea

Cartoon Saloon is a Kilkenny-based Irish studio which produces TV series, advertising and feature films. Among the latter: Brendan and the Secret of Kells, Santa's Apprentice or Moon Man. The Song of the Sea is the studio's next production, in 2D animation and directed by Tomm Moore. The film is co-produced by Mélusine Productions (Luxemburg), The Big Farm Productions (Belgium), Superprod Animation (France) and Nørlum (Denmark), with a budget of 5.5 M€. Numerous regional public funds and tax shelters made it possible to bolster financing, depending on the country: Ireland (38%), Luxemburg (22%), Belgium (20%), Denmark (10%), France (less than 10%), not to mention Eurimages.
As for any other co-production, tasks were split among the various studios. Besides Tomm Moore's direction, Cartoon Saloon also took over the script, art direction, animatics – completed six months after the finalised script version – backgrounds, character design and animation. Studio 352, an integral unit of the Mélusine production company, took on the sets layout and a portion of the animation. Nørlum, a young sprout from a seedlot or nursery set up by The Animation Workshop (Viborg, Denmark) produced 35 minutes of animation. Compositing and special effects were entrusted by the production to the Belgian Digital Graphics studio. Finally, the French Superprod company was given all the image and sound post-production to manage.
To enable the smoothest possible production flow among the various providers, Cartoon Saloon relied on the HoBSoft project management platform. Through two dedicated servers installed in their own offices, data was transferred via a secure connection to the different partners' HoBSoft servers. Each team could therefore progress with their data which would then automatically be re-transferred back to the central server. HoBSoft also has a project-tracking tool so that at any point in time the director could check production status, and green-light or change shots. A history logging all changes helped avert potential errors due to the multiple versions.
Question from the audience
Is one obliged to spread production throughout different countries to ensure financing, at the risk of ending up with a hybrid result?
Eric Goossens (Walking The Dog): "The trend is to have to multiply producers with other countries because today no one wants to take on a project if there's a big financial risk. However – and this is true for us – the studios understand one another much better now and the collaborative work is increasingly effective. So, yes, the financial aspect will remain a major issue but I believe that we really have true co-production dynamics engaged now and it's no longer just a question of pure financial juggling."
Guillaume Hellouin (TeamTO): "For Yellowbird, we truly wanted to make the picture all on our own. In France, we're lucky to be able to raise extensive funding, but this meant a huge investment for Team TO at the start. Nowadays, no two films are alike, and this is not necessarily the approach we might pursue in the future. If our budget is 8.5 M€, it's because we weren't able to levy more. So the question of international distribution will perhaps come to the fore in a future project but we won't work with another studio."
Drafted by Stéphane Malagnac, Prop'Ose, France
Translated by Sheila Adrian
The Annecy 2014 Conferences Summaries are produced with the support of:
Conferences organised by CITIA
under the editorial direction of René Broca and Christian Jacquemart
Contact: christellerony@citia.org