2023 Season

Summary
Over the coming weeks, discover the different creations that will shape the Annecy Festival's visual identity and give the tone for the 2023 edition!
The event's official poster, the opening trailers created by the students at GOBELINS Paris, the trailer for this year's Partners...
A collection of creations that guarantee we will have a vibrant multicoloured season!
Mexican culture inspirits the Festival's poster
In 2023, Mexican animation is in the spotlight at the Annecy Festival!
Jorge R. Gutierrez, animator, director and Festival jury member, breathes life into this new edition's poster. Passionate about his country's culture and folklore he designed a poster bursting with colour, an invitation in itself to celebrate!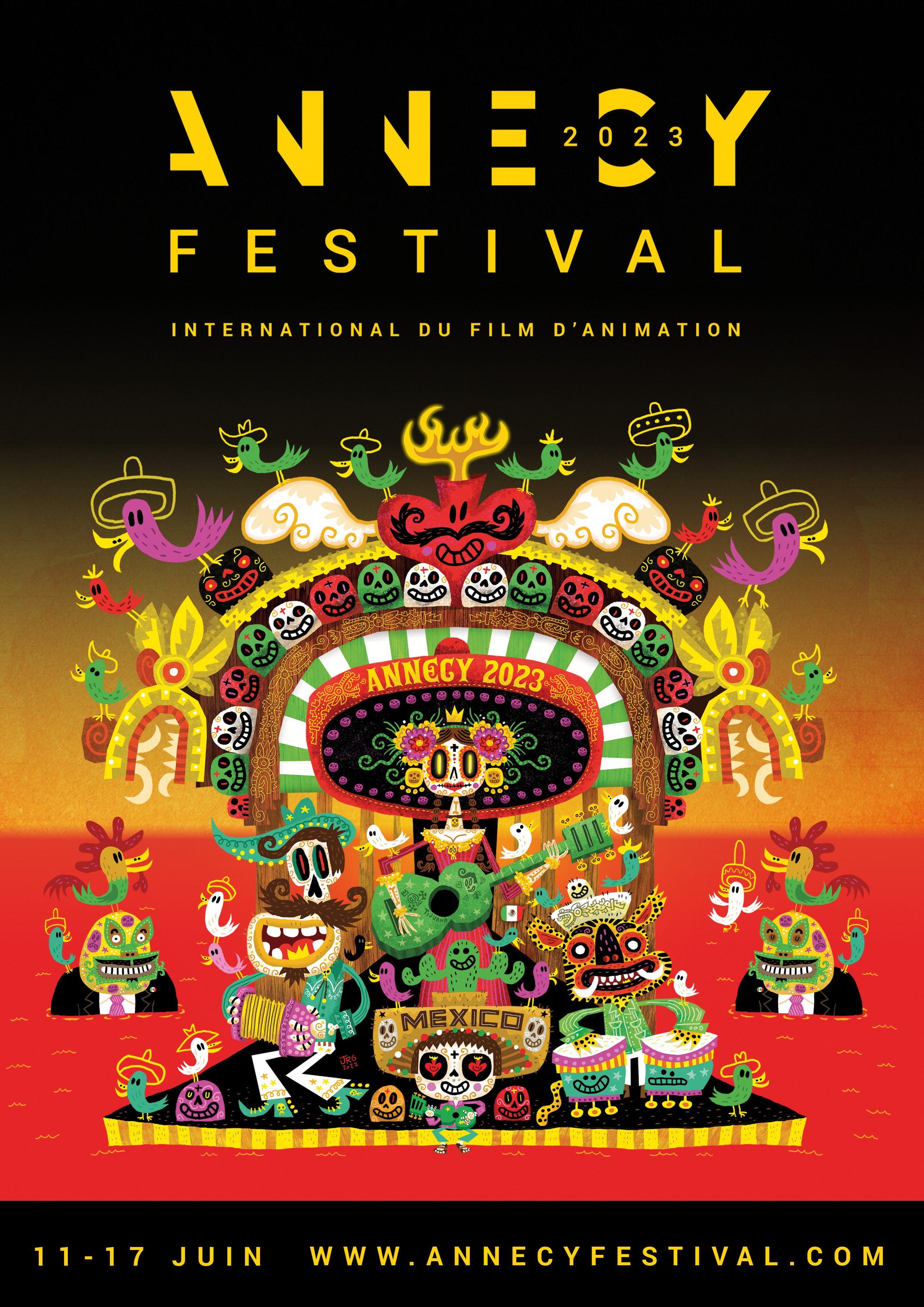 The Partners' trailer by Studio La Cachette
This year, the team at Studio La Cachette is responsible for the official production of the 2023 Partners' trailer. It pays tribute to Annecy's town and its Festival by featuring characters from its universe during a festivalgoer's "typical" day.
Studio La Cachette is an animation company that was founded in 2014 in Paris by Oussama Bouacheria, Julien Chheng and Ulysse Malassagne. By combing expert and original know-how with high storytelling standards it specialises in the service, production and coproduction of short films, TV series and ambitious feature films. This "hidey-hole" (cachette in French) is a safe place for creation where high-quality work is produced with a willingness to collaborate closely with its partners and its aim to leave the best possible impression in films.
Studio La Cachette's credits include the short film Sucker of Souls, the anthology Love, Death & Robots produced by David Fincher and Tim Miller for Netflix in 2017, the two seasons of the series Genndy Tartakovsky's Primal, broadcast on Adult Swim and winner of an Emmy Award in 2021 in the category "Primetime Emmy Award for Outstanding Animated Program", and of part of the animation in the feature-length animation film Ernest & Celestine: A Trip to Gibberitia by Julien Chheng and Jean-Christophe Roger, released in theatres at the end of 2022.
There will be no less than three projects hot out of the studio in 2023, a new series by Genndy Tartakovsky, Unicorn: Warrior Eternals for HBO Max, a short film The Spy Dancer directed by Julien Chheng for the season 2 of the Star Wars: Visions anthology planned for Disney+ and the studio's first-ever series, Le Collège noir, directed by Ulysse Malassagne for the French streaming platform ADN and France Télévisions.
The studio's team now has over 60 artists and draws from its wealth of accumulated expertise to continue producing its own stories. A new series and a feature film project are currently in development, in line with their adventurous spirit.
Animation, Pride and Diversity
Animation, Pride and Diversity will be in the spotlight at Annecy in 2023, with four film programmes devoted to this theme for festivalgoers to explore:
This programming is coordinated by Benoit Berthe Siward, co-founder of LGBTQ+ in Animation and founder of The Animation Showcase, to offer a diversity of insights on recent production.
"This theme has become a topical issue, especially for young filmmakers, many of whom tackle issues related to gender and diversity every year."
Marcel Jean, the Festival's Artistic Director
A fifth programme will be devoted to Barry JC Purves's work. Pioneer in the exploration of homosexual themes in animation, this year he will receive an Honorary Cristal for his lifetime achievement and his commitment to LGBTQ+ animation.
Furthermore, "Pride" will be present in the various sections of the Festival's programming, in particular in the WIP with the feature film Eugene, written by Joëlle Oosterlinck and directed by Anaïs Caura.
GOBELINS Paris
Animation, Pride and Diversity will be in the spotlight at Annecy in 2023, with four film programmes devoted to this theme for festivalgoers to explore:
Every year, for almost 50 years, animation film students from GOBELINS Paris have been paying tribute to the Annecy Festival by producing very short films – between 30 and 60 seconds – as openers to each main film screening. As part of this year's tribute, the students have created 10 films with a Mexican theme. The resplendently beautiful films, created by all these future animation professionals, will once again be dazzling our theatre screens.
Every year, the talented students offer us some truly breathtaking moments while simultaneously showcasing animation art worldwide. We thank them wholeheartedly!
> Download the PDF for more information.
> Watch the GOBELINS Paris' videos

The Annecy Festival is excited to see you all on 11th to 17th June
for 7 days dedicated to animation film!