Virtual reality, presented in the Special Programmes at Annecy 2016, is now part of the Official Selection with a dedicated category: VR@ANNECY.
Come and take these state-of-the-art VR shorts and music videos for a spin!
Each day, there will be two new projects in the Salle de création with HTC Vive, Oculus Rift and Samsung Gear headsets at your disposal for the occasion.
Google Spotlight Stories and Google VR are the official partners of the VR@ANNECY sessions.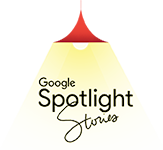 For any further information contact Yves Nougarède.
Programme available in May 2019!