Covid-19 Info
Since March 2022, most anti-Covid restrictions in France have been lifted.
As a precautionary measure and to ensure the health and safety of all our festival-goers, we will provide hand sanitizer; we also recommend that you wear a mask at all Annecy Festival and Mifa venues.
Social distancing
It is highly recommended that you wear a mask on all Festival and Mifa premises.
We kindly request that you comply with social distancing measures, specifically:
Clean your hands often (hand sanitizer stations will be located throughout the premises of the Festival and Mifa)
If you must sneeze or cough, do so in the crook of your elbow
Avoid touching and hugging
As much as possible, maintain a one-yard distance between yourself and others
Screening
Should you require Covid-19 screening during your stay in France, an updated list of all test facilities is available online.
To be as effective as possible, it's suggested that you pre-book an appointment with the SYNLAB laboratory center at the Annecy train station, located on Square Verdun, right in front of the Annecy SNCF railway station. You can reserve your appointment slot directly on-line on the center's bilingual platform.
The center charges set rates (44€ for individuals not under the French health insurance system).
If your country of origin requires a certificate signed by a doctor in addition to your PCR results, the laboratory's referring doctor is within jurisdiction to sign it when you collect your test results (24 hours maximum after having carried out your test).
Rules concerning contact cases and Covid-positive individuals
If you are told you are a contact case you should have a screening test done (RT-PCR or antigenic or self-test) within 48 hours of having been informed of such by the French Assurance Maladie authorities or by the positive individual.
If your test result is positive:
In the case of a positive self-test or antigenic test: have that result verified immediately by a RT-PCR test; you should isolate while awaiting results.
In the case of a positive RT-PCR test: you should immediately isolate for a period of time defined as per current applicable measures in France.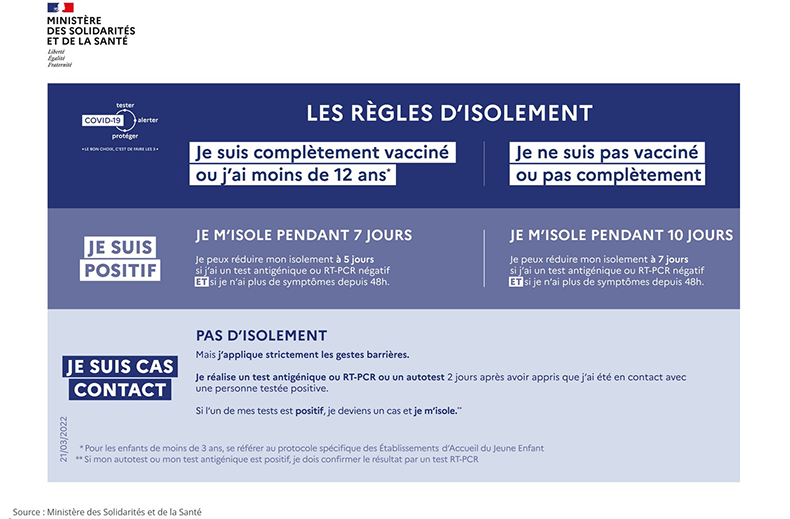 If your test is negative, you must:
Check your temperature and all possible symptoms. Have an antigenic or RT-PCR screening test carried out immediately if symptoms occur.
Likewise, apply strict social distancing measures
For all questions pertaining to health measures and Covid-19, please contact: covid@citia.org.