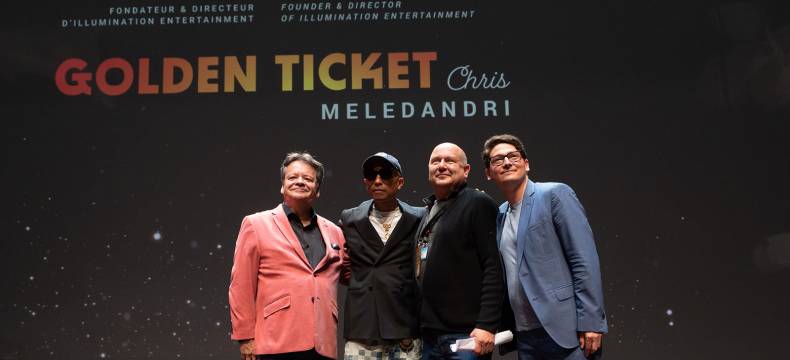 14th Jun 2023
Chris Meledandri presented with 'Golden Ticket' lifetime accreditation at Annecy Festival
Chris Meledandri, founder and CEO of Illumination, presented with 'Golden Ticket' to symbolise the relationship between the studio and Annecy.
IN A SURPRISE APPEARANCE, ACADEMY AWARD NOMINEE AND GRAMMY WINNER PHARRELL WILLIAMS, A LONGTIME ILLUMINATION CREATIVE PARTNER, PRESENTED MELEDANDRI WITH THE HONOR
Illumination founder and CEO Chris Meledandri, the creative visionary behind The Super Mario Bros. Movie, the Despicable Me and Minions franchise, the Sing and Secret Life of Pets films, and the upcoming holiday action comedy, Migration, today was presented with a "Golden Ticket" lifetime accreditation from the Annecy International Animation Film Festival. In a surprise appearance, two-time Oscar nominee and Grammy-winning global superstar Pharrell Williams presented Meledandri with the Festival's distinguished honor.
Williams, a longtime creative partner with Illumination, earned his first Academy Award nomination for his joyful blockbuster song "Happy" from Illumination's Despicable Me 2.
Meledandri was attending Annecy with Oscar-nominated filmmaker Benjamin Renner to reveal exclusive footage of Illumination's new feature film Migration (in theatres 22 December), which stars Oscar nominee Kumail Nanjiani and Elizabeth Banks, and is written by Emmy winner Mike White.
Meledandri has a long, rich history at Annecy, and several Illumination films have premiered at the Festival over the years. Illumination, founded by Meledandri in 2007, is now the entertainment industry's leading producer of event-animated films. Nintendo and Illumination's The Super Mario Bros. Movie, obliterated box office records to become the first film of 2023 to earn more than $1 billion worldwide. Illumination's Despicable Me and Minions films are the most successful animated franchise in cinematic history, and its studio library now includes three of the top 10 animated films of all time.
For Marcel Jean, the Annecy Festival's Artistic Director, "The collaboration between Illumination and Annecy has been a determining factor in the Festival's recent development. The trust that Chris Meledandri has placed in us, in particular during the various film launches for the Despicable Me franchise, has been a tremendous boost to our development. Awarding the Golden Ticket to Chris Meledandri symbolizes how significant this bond is for Annecy."
Mickaël Marin, CITIA's CEO, explains the gesture in these words: "Chris Meledandri has been instrumental in changing the way feature films are produced. By choosing to produce in Europe, and in particular in France, he has unified the best of two continents. It is this visionary ethos that we want to celebrate."
In 2016, the Annecy Festival awarded its first Golden Ticket to Jeffrey Katzenberg, Co-Founder of DreamWorks Animation.