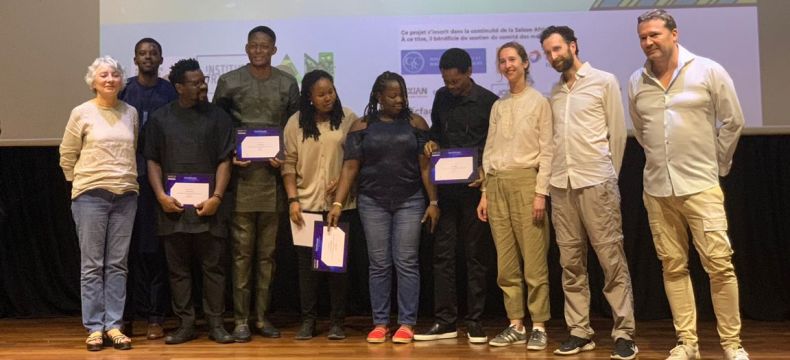 3rd May 2023
International Mifa Campus – Nigeria
As part of its measures to assist professionals in the animation sector, Mifa lent Nigeria its expertise, through an International Mifa Campus – Production.
From April 3 to 6, 2023, Nigeria reinvigorated its ecosystem by partaking of a Lagos-based International Mifa Campus – Production with a special Production Workshop led by French and Nigerian experts: Ariane Suveg (consultant), Odile Perrin (consultant), Ivan Zuber (producer, Laïdak Films), Mbuotidem Johnson (producer, Basement Animation Studio) and Abba Makama (producer, Osiris Film).
The aim of this workshop is to back participants in their professional projects so as to adopt a structural approach and allow a territory to gain strong and complementary skill sets. Through case studies and feedback, as well as through inventorying the country's audiovisual and cinematographic sector, including an attentive review of needs and shortcomings, the workshop guides six project leaders to address issues and gradually move toward new professional initiatives.
Omoyefe Majoroh (Blac Onyx Studios), Yetunde Ogundipe (BeeReel Pictures), Ashford Etela (Toon Republic Studios), Nkem Nwaturuocha (DisruptDNA), Somto Ajuluchukwu and Tunde Oluwa all joined in this endeavour and shared their views as to potential career progressions.
In this manner Nigeria, which had attended other workshops with Mifa these past few years, confirms its determination to move forward. Next June a Nigerian delegation will attend the International Animation Film Market, and the six project leaders will participate in the Meet the… Sales Agents event, in order to put recent learnings into practice and find future partners.
Sign up for your accreditation now to participate in the Annecy Mifa, June 13-16, 2023.

Partenaire du Mifa Campus International