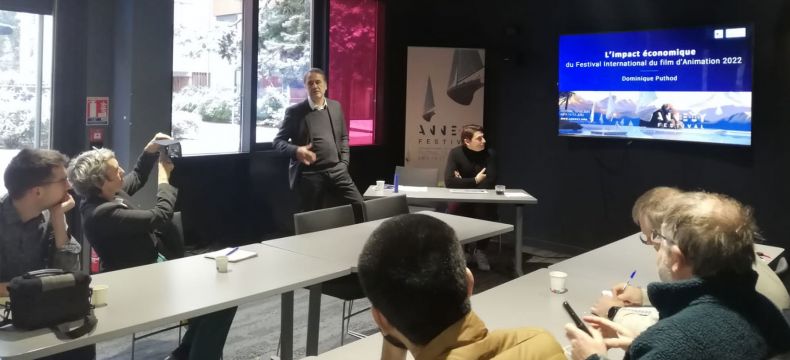 17th Jan 2023
Annecy Festival 2022: A Significant Economic Impact
CITIA, organiser of the International Animation Film Festival and its Market, the Mifa, this morning revealed the Annecy Festival 2022 edition's economic impact.
The economic benefits for the local community are considerable.
Furthermore, if we compare local subsidies allocated to the event with its economic impact, we are witnessing a significant leverage effect!
AS A REMINDER, ANNECY 2022 IS:
38 full time staff and over 50 collaborators as reinforcements
403 volunteers
13,248 badgeholders of which 11,800 non-local badgeholders
106 countries represented, 47% foreign badgeholders
Almost 3,000 companies present
6 days
300 film screenings
115,000 admissions

WHY DO A STUDY LIKE THIS?
Nowadays, many events, whether they are cultural or sporting, contribute to the economic development of the regions where they are organised.
"We wanted to carry out a study using a robust methodology (the last dates back to 2018) to precisely measure the Annecy International Animation Film Festival's economic impact. The idea was to have indicators for CITIA and its partners in order to demonstrate that a cultural event also generates economic spin-offs. Using a unified method also makes it possible to compare it with other events. Lastly, the information collected is also useful to investors, notably to justify their interventions."
Dominique Puthod, Chairman of CITIA
THE STUDY AND SURVEY
They were supervised by Dominique Puthod, Chairman of CITIA and lecturer at Savoie Mont Blanc University, using the Directorate-General for Enterprise's (DGE) method as its reference framework. This particular method makes it possible to analyse an event's short-term economic impact. A survey was carried out at the end of the event's last edition to analyse the participants' spending. 3,048 people answered the survey (out of the 11,800 non-local attendees). This ensures an accurate result and representative sample of the different types of badgeholders (Festival, Mifa, Students, etc.).
ECONOMIC IMPACT
The participants' spending, paired with the organiser CITIA's expenditure, revealed a short-term economic impact of €22,80 M.
A significant leverage effect on the local community because:
1 euro invested by the Town Hall generates €50.80 within the region
1 euro of public funding generates €11.90 within the region
Presentation, methodology and figures (in French only)