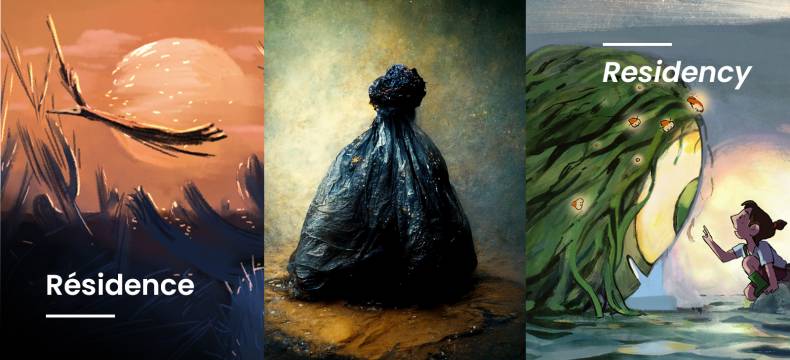 24th Nov 2022
Residency: The Winning Projects
From 3rd April to 30th June 2023, the Annecy Festival Residency will host new artists who will work on the graphic development of their animation feature films.
Right at the heart of the Papeteries – Image Factory, the Annecy Festival Residency 2023 winners will each benefit from a suitable workspace, a tailor-made mentor and assistance from the CITIA teams.
In response to the call for projects, 33 projects were received this summer from all 4 corners of the world (Argentina, Brazil, Canada, China, Colombia, Croatia, Spain, France, Italy, New Zealand, Peru, and United Kingdom), 14 of which were led by women, 15 by men and 4 by man/woman duos.
From this geographic diversity and the array of genres and styles, the selection committee, composed of Damien Brunner (Producer, Folivari), Laurence Petit (Distributor, Haut et Court), Aurel (Artist, Director) and Jean-Christophe Roger (Director), chose the following:
Le Dernier des Cailloux by Caroline Cherrier (France – Tant Mieux Prod)
Shadow Work by Areito Echevarria and Raqi Syed (New Zealand)
The Bird Kingdom (O Reino dos Pássaros) by Wesley Rodrigues (Brazil/France – Lupa Filmes, Sacrebleu Productions)
Congratulations to the directors whose biographies and feature film synopses are available on the special Annecy Festival Residency 2023 web page.
See you in June at the Mifa to meet these winners and discover each project's graphic evolutions, and maybe even join their adventure! In a few weeks' time, we will reveal who the mentors are who will be providing tailor-made assistance to each of the projects.
Many thanks to the Région Auvergne-Rhône-Alpes, the Département de la Haute-Savoie, the Drac, the CNC and Netflix, who are once again supporting the Annecy Festival.
To find out more about the 2023 Residency, check out the special web page.