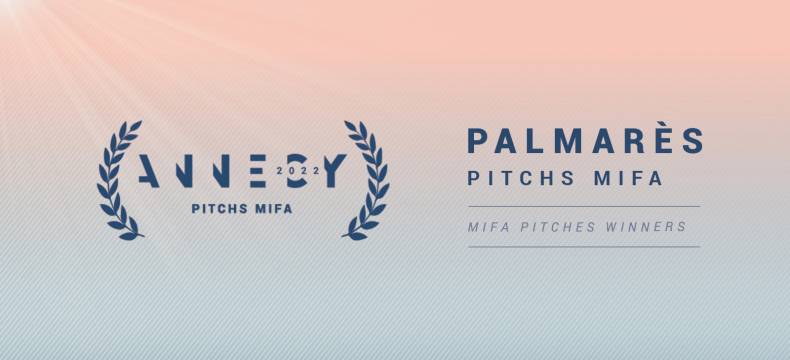 16th Jun 2022
2022 Mifa Pitches Prizes
The winners of the Mifa Pitches 2022 edition have been revealed!
Each year, almost 500 project leaders from around the world apply to the Mifa Pitches in the hope of presenting their project at Annecy to an audience of professionals seeking original content.
This year, 32 projects were selected out of the 472 submitted. As the Mifa draws to a close, without further delay let's discover the winners!
Congratulations to them all!
Short Film Pitches
Studios Alhambra Prize (Animation du monde)
Folimage Prize – Young Talent Booster (Animation du monde)
The Little Hot-Water Bag
Yuliana Paula BRUTTI
Argentina
NEF Animation Prize
The Little White Queen
Mathieu GEORIS, Théo HANOSSET
Belgium
Open Workshop Prize (Animation du monde)
Petra and the Sun
Stefania MALACCHINI, Maria Luisa FURCHE
Chile
SACD Prize
Arte France Prize
The Day I Smoked a Cigarette with My Father
Robin VOUTERS, Sameh MORSY
France, Egypt
Auvergne-Rhône-Alpes Cinéma/Bourse des festivals Prize
Supersilly
Veronica MARTIRADONNA
France, Italy
Ciclic Prize
The Sunflowers' Sorrow
Léa KRAWCZYK
France
Ciclic – Shortway Prize (Animation du monde)
Arbor
Valentino LASSO
Mexico
TV Series & Specials Pitches
Ciclic Prize
Grandpa and Grandma Made the Revolution
Agnès PATRON, Sophie NIVELLE-CARDINALE
France
Prix Ciclic (label Animation du monde)
Jupiter's Cogitations
Moumouni SODRÉ, Sébastien GODARD
Burkina Faso, France
TitraFilm Prize
Polo sans bobo
Sophie CASTAIGNEDE, Fabrice RAVIER
France
Disney+ Prize for a New Series (label Animation du monde)
My Super Hero Husband
Alex TAGALI, Michaela KAKARIDI DELIGIANNI
Greece
Feature Film Pitches
Cristal Publishing Prize
Ciclic Prize
Le Cœur à danser
Pierre LE COUVIOUR, Amine EL OUARTI
France
TitraFilm Prize
Happy End
Marie AMACHOUKELI, Vladimir MAVOUNIA-KOUKAFrance
> Check out the Mifa Pitches Prizewinners 2022

We would like to thank our partners who rewarded these projects!
We would also like to thank the SACD, official partner of the Short Film Mifa Pitches; Disney+, partner of the Series & TV Specials Pitches; and Unity, partner of the Digital Experiences Pitches.