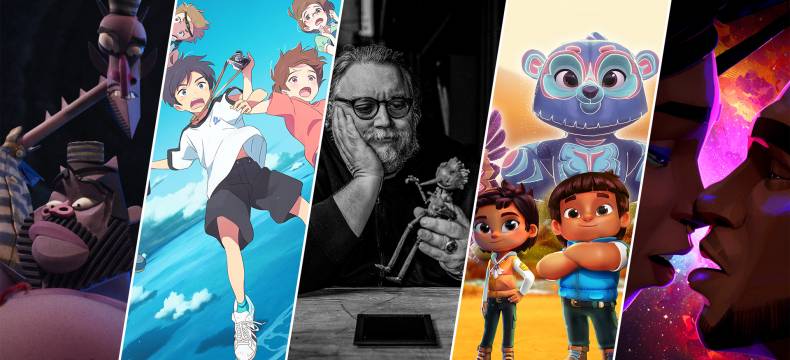 25th May 2022
Talents and Exclusives from Netflix in Annecy!
Never-before-seen footage, animation talents, premieres: catch up with Netflix at the Annecy Festival!
Netflix and their stars, such as Guillermo del Toro, Chris Williams, Chris Nee, Nora Twomey and many others will be at the Annecy International Animation Film Festival this year with an outstanding programme!
Discover:
Masterclass: The Power of Inclusive Storytelling, by Chris Nee
Chris Nee, Director, Executive Producer, and award-winning Screenwriter, will share her thoughts on the power of inclusive storytelling. Karissa Valencia, Creator of Spirit Rangers, will join her to talk about this upcoming series.
Studio Focus: Sony Pictures Animation Presents "Agent King" & "Young Love"
As part of the Studio Focus, discover the animated series for adults Agent King, in the presence of Fletcher Moules, Robert Valley and Antonio Canobbio.
Work in Progress: My Father's Dragon
The Oscar-nominated Director Nora Twomey, from Cartoon Saloon, will present a Work in Progress on her next film My Father's Dragon, inspired by the children's book by Ruth Stiles Gannett.
Screening Event: The Netflix Animation Showcase
Guillermo del Toro will be here in person to present exclusive footage of his next feature film Guillermo del Toro's Pinocchio.
You will have a first sneak peek at Entergalactic, created by Scott "Kid Cudi" Mescudi and Kenya Barris (Executive Producer). This animation project for adults is based on the next graphic novel of the same name by Kid Cudi.
Next up will be a glimpse behind-the-scenes of the shooting of Bad Travelling, directed by David Fincher, who is featured in Volume 3 of the series Love, Death + Robots created by Tim Miller.
These discussions will be followed by films and series including The Sea Beast (Chris Williams), Wendell & Wild (Henry Selick), My Father's Dragon (Nora Twomey), The Magician's Elephant (Wendy Rogers), Drifting Home (Hiroyasu Ishida), Nimona (Nick Bruno and Troy Quane), Spirit Rangers (Chris Nee and Karissa Valencia), and My Dad The Bounty Hunter (Everett Downing and Patrick Harpin).
Screening Event: The Sea Beast
Come and see the premiere screening of the film The Sea Beast, in the presence of its Director Chris Williams.
Making of: The Sea Beast
Director Chris Williams and his team take you into uncharted waters to reveal the secrets of filming The Sea Beast.
Work in Progress: ONI: Thunder God's Tale
Daisuke "Dice" Tsutsumi, Sara K. Sampson, Robert Kondo, Mari Okada, and Kane Lee from Tonko House will present a Work in Progress about the series ONI: Thunder God's Tale.
Screenings of TV Films in the Official Selection in Competition
Don't miss the screenings of Arcane, The Cuphead Show!, The House, Human Resources, Robin Robin and We the People.
To discover the catalogue of upcoming animation films and series on Netflix and meet all its talents, see you at the Annecy International Animation Film Festival, 13th to 18th June 2022!