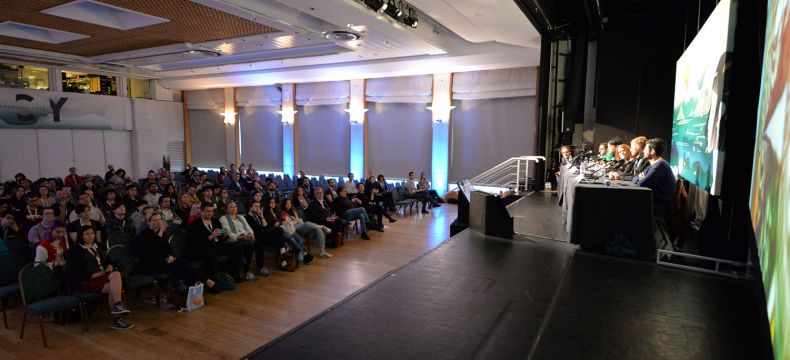 18th May 2022
Professional Meetings 2022: Inspirational Annecy
Annecy's Professional Meetings are one of the major pillars of the world's largest gathering dedicated to animation. Over 50 events are being held this year in this context, which is more important than ever for this 2022 edition as it revives the professionals' return in full force.
The Conferences: a real hub of ideas
From pre-production to distribution, from production processes to funding works, the Annecy Conferences are a real hub of ideas.
The aim is to benefit from privileged discussions concerning current and upcoming challenges, four Conferences are organised this year under three themes: XR, Creation and Business.
XR
Back to the Future of XR
Tuesday 14th June, 9:00 am
Reviewing 4 challenges for the XR industry's future: funding, traditional animation, real-time, training courses.
CREATION
Unleashing Talents and Creation: A Key Issue for Animation
Thursday 16th June, 9:00 am
In an extremely competitive industry, producers, platforms and studios vie with ingenuity to attract and keep hold of the best talent. As creative freedom is more than ever the core focus, how is the animation industry adapting and anticipating the future?
The morning will be introduced by a Keynote by Jennifer Lee, Creative Director at Walt Disney Animation Studios, Screenwriter and Director of Frozen, who this year will receive an Honorary Cristal.
BUSINESS
Animation's New Growth Influences
Friday 17th June 9:00 am
For the last several years, the animation sector has been experiencing an exceptional impetus, accelerated by the platforms incessant hunger. In this favourable context, how do we structure ourselves and create new alliances to sustainably support this growth and better respond to future challenges? Where it will be a question of intellectual property, NFT, etc.
Check out the programme with all the Conferences and speakers listed!
Making of: back to creation
The Sea Beast (Netflix)
Thursday 16th June 2:00 pm
Director Chris Williams and his team take us into uncharted waters and reveal the secrets of filming The Sea Beast.
Star Trek: Prodigy (Paramount)
Friday 17th June, 4:30 pm
The talented team of Star Trek: Prodigy, Nickelodeon's hit series, shares behind-the-scenes anecdotes and reveals the unique process of its creation.
Check out the information on the Making of and speakers!
Masterclasses: creators take to the stage
Guillermo del Toro, Isao Takahata and Composer Bruno Coulais have already participated in Annecy's Masterclasses, generously hosting a discussion about a film, a cinematographic genre, or about a studio's working environment.
There are three new hosts on the programme this year:
Chris Nee, Director, Executive Producer, award-winning Scriptwriter, VR Annecy 2022 jury member, will share his vision about the power of inclusive storytelling (Monday 13th, 5:00 pm).
Canadian Robert Valley, artist, director, graphic artist, designer and animator, has an order book that is always overflowing (Love, Death and Robots, Invicible, Apex Legends "Metamorphosis", etc.). At Annecy he will present exclusive first footage of Permanent Damage, the new short film he is currently developing (Wednesday 15th at 3:00 pm).
Lastly, representatives of the new generation of animation talents will discuss a genre which is experiencing a strong resurrection of interest, science fiction: future animation or the future of animation? (Thursday 16th, 11:00 am).
Find more information on the Masterclasses!
Studio Focus: meet the studios making the news
The Studio Focus sessions are the opportunity to discover creative processes and upcoming projects of the world's leading animation studios. About 12 of them will be participating this year: Disney, WarnerMedia, Warner Bros., Passion Pictures, the NFB, DreamWorks, Sony Pictures Animation, Triggerfish, DNEG, Paramount, DisneyTV/Disney Junior, etc.
Demo Sessions: solutions for creation
Showcases to discover the power and potential of technological tools and solutions for animated creation.
This year, around ten sessions give the floor to RenderMan, SideFX, Unity, Adobe, The Foundry, and Wacom.
Partners' Conferences: outlooks on the animation world
In the limelight this year: Women in Animation inspirational day
Presentation of the feature film Ozi by Rodrigo Blaas and Mikros Animation
A conversation on animation's future with Epic Games
The CNC conference talking figures
Unifrance's thoughts on distributing and promoting French animation internationally
A glimpse at Encanto's art and a discussion with Jason Hand from Walt Disney Animation Studios
NextLab discusses disruptive technologies in the animation industry
Works in Progress
Recently announced, the 15 Work in Progress sessions at this 2022 edition once again invite you to dive right to the core of the creative process of unique projects, which include features, short films, series, and VR works currently in production.