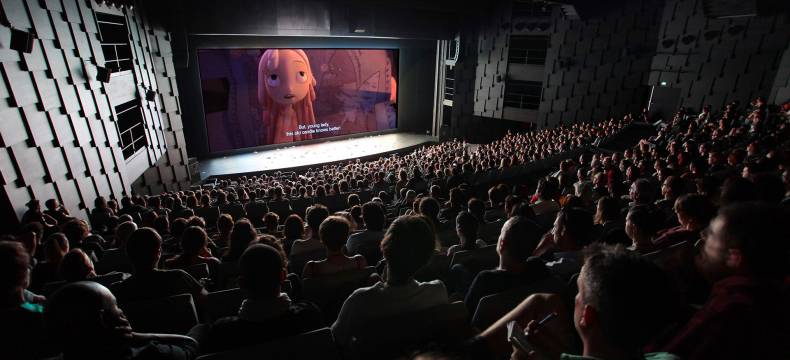 2nd May 2022
Official Selection: the Feature Films
The last part of the Official Selection has now come to light! Discover the list of feature films in competition at Annecy 2022!
With the entire Official Selection of short films and VR works already announced, the time is ripe to reveal the feature films in competition at the 2022 Annecy Festival.
Feature Films Category – Official:
Charlotte by Eric Warin, Tahir Rana – Belgium, Canada, France
The all too short life of the German-Jewish painter Charlotte Salomon, who died at 26 in Auschwitz, is portrayed in this gripping movie which explores an outstanding artistic temperament swept up in the whirlwinds of History.

Goodbye, DonGlees! by Atsuko Ishizuka – Japan
Goodbye DonGlees! released in Japan in February is both a story of friendship and of rite of passage. Funny, moving, close to nature, a film which will delight anime fans.

Interdit aux chiens et aux Italiens by Alain Ughetto – France, Italy
Jasmine was the revelation of the 2013 Annecy Festival. Now, nearly ten years later, Alain Ughetto is back with a film that again draws deeply from autobiography, a film in which the narrative device is once again built on representation of the film's production resources. Annecy Festival is thrilled to renew its acquaintance with this too-rare author.

The Island by Anca Damian – Romania, France, Belgium
Using her unique and always surprising style, Anca Damian, winner of the 2012 Feature Film Cristal, freely revisits the myth of Robinson Crusoe, treating viewers with a dive into her baroque realm.

The House of the Lost on the Cape (Misaki no Mayoiga) by Shinya Kawatsura – Japan
A meticulous adaptation of Kashiwaba's novel, this feature film rekindles memories of the tragic 2011 earthquake and ensuing tsunami. Although the make-up of this film's first few minutes may appear relatively conventional, the rest is definitely full of surprises with segments of it on the cusp of experimental.

My Love Affair with Marriage by Signe Baumane – USA, Latvia, Luxembourg
One of the great forces of contemporary feminist animation, here Signe Baumane offers us a second feature film pursuing an approach that's both unique and consistent. It is equally intimate and drole, without forgetting the joy brought us by the songs interspersed throughout the story.

Nayola by José Miguel Ribeiro – Portugal, Belgium, Netherlands, France
Political and social, José Miguel Ribeiro delves into Angolan history to relate the fate of three women from the same family, a tribute to the struggle of brave Angolan women whose lives are imprinted with the violence of history. This is a highly successful passage from short formats to feature film by a reputed short filmmaker.

Little Nicholas – Happy as Can Be by Amandine Fredon, Benjamin Massoubre – France, Luxembourg
Using animation to redraw Sempé's strokes and add color to the artist's drawings was certainly a great challenge. A challenge taken up by a talented team that never took the easy way out and that ensures we feel right at home with Goscinny's verve and Sempé's agility. A major popular movie which – we do trust – will easily bridge the generation gap!

Blind Willows, Sleeping Woman by Pierre Foldes – Canada, France, Luxembourg
This may very well be the most eagerly-awaited animation feature of the year! Adapted freely from several of Haruki Murakami's short stories, the film is highly unique, its structure honoring the traits of the novellas which inspired the filmmaker.

Unicorn Wars by Alberto Vazquez – Spain, France
Prolific and gifted, the Spaniard Alberto Vazquez favors us with his second feature film, so striking with its visual opulence, its generous staging and its originality. A pleasure not only for the eyes but for the spirit as well!
> Check out the Feature Films in the Official Competition

Feature Films Category – Contrechamp:Contrechamp :
Aurora's Sunrise by Inna Sahakyan – Germany, Armenia, Lithuania
In this animated documentary so impeccably directed by Inna Sahakyan, Aurora Mardiganian, star of silent movies, comes back to life to tell the story of the genocide she survived. This is a work which draws its breath from the winds of history.

Dozens of Norths (Ikuta no Kita) by Koji Yamamura – France, Japan
A regular of the Festival, Koji Yamamura brings us a contemplative and enigmatic first feature which builds languid fascination while his neat graphics unfold subtly. Definitely a film to discover.

Home Is Somewhere Else by Carlos Hagerman, Jorge Villalobos – USA, Mexico
Another animated documentary here focused on the fates and dreams of young Mexicans migrating to the U.S. Three stories with as many graphic and technical styles, a film of burning topicality.

Khamsa – The Well of Oblivion by Khaled Chiheb – Algeria
What bliss to welcome an Algerian feature film to this competition for the very first time! Leisurely, contemplative and almost esoteric, Khamsa reminds us of Laloux at times and of Laguionie's Gwen at others… In the end, the result is eminently personal and promises beautiful tomorrows for North African animation.

My Grandfather's Demons (Os demónios do meu avô) by Nuno Beato – Spain, France, Portugal
A real swoop down into the family novel, My Grandfather's Demons surprises by its transition from one technique to the next, as well as by the density of its discourse on roots and the impact of the latter on our social relationships.

The Other Shape (La otra forma) by Diego Guzman – Colombia
This year, the honor of representing South America in the Contrechamp category goes to Colombian Diego Guzman. He offers us a dialogue-free futuristic film, an intriguing trip through a hallucinatory world.
Quantum Cowboys by Geoff Marslett – USA
Now here is a very strange Western in which the director uses rotoscoping and adds elements of time travel. An eye-opener for the selection committee and a film we want to share today with festival-goers.
Silver Bird and Rainbow Fish by Lei Lei – USA, Netherlands
The Chinese artist Lei Lei is back, with this teeming feature where he explores his family past, creating a kind of huge surrealistic collage dotted with pop art references. First shown in Rotterdam, Silver Bird and Rainbow Fish is one of the most singular objects of the 2022 Annecy selection.

Chun Tae-il: A Flame That Lives On (Tae-il-i) by Jun-pyo Hong – South Korea
This is a film that sweeps us into the heart of the Seoul tailors' labor struggles. Of classic composition, this moving social drama is sourced in the true story of one of the labor movement's most emblematic figures.

Yaya e Lennie – The Walking Liberty by Alessandro Rak – Italy
For his third representation in Annecy competition, the Italian Alessandro Rak is back with a lighthearted film, an ecological sci-fi fable. At times Yaya e Lennie seems as if it is transposing Of Mice and Men into a post-apocalyptic scene.

> Check out the Feature Films in the Contrechamp Competition

Congratulations to all the nominated films. We'll see you at the Annecy Festival, June 13 to 18 to discover them on the big screen, before the prizewinners are announced on Saturday June 18, 2022.