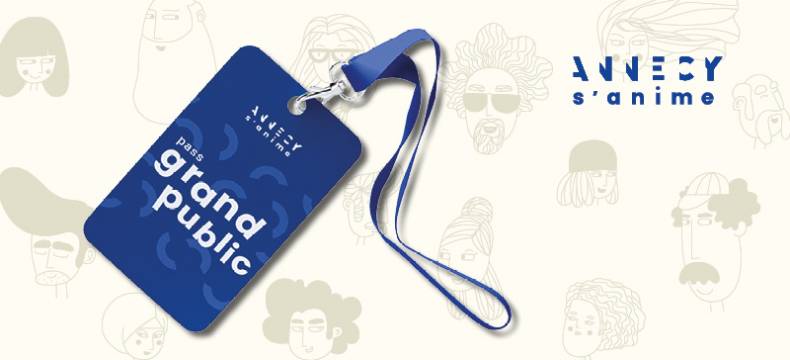 29th Apr 2022
Pass grand public: it's back and it's for all!
Next June the Annecy International Animation Film Festival will be back as a 100% in-person happening. For this occasion, we once again commit to streamlining the access of the general public to the world's top animated film festival.
This year, it's awesome, your souls are voracious! Are you hoping to enjoy the Festival and its animation gems to the utmost? For you, the Pass grand public is staging its big comeback. Grab it and make a beeline to the Festival!
Movie-lovers and animation fans, alone or with family, friends or colleagues, discover our Pass grand public!
The Pass works like an accreditation throughout the week of the Festival, to be held June 13-18, 2022.
Gain entry to all the screenings of the International Animation Film Festival and "Annecy s'anime" sessions:
Thanks to 1 reservation a day, via the online Ticketing Service
Or unlimited access, via the third waiting line marked Badgeholders without reservation
"The Annecy Festival is, above all, the festival of Annecians. We can't say it enough, because even though this is the world's leading animation festival and the second largest film festival in France after Cannes, it is truly integral to Annecy's heritage, to Annecy's DNA!" Mickaël Marin, CITIA Director
Take advantage of many offers throughout the year!

Reduced price for the Hivernal Festival screenings in December 2022
Reduced price for the "Annecy s'anime" sessions all year long
Reduced price for the Annecy Italian Cinema festival and the Brise Glace concerts
Discounts on Festival goodies at the official boutique The cost of the Pass is 30 EUR full price and 18 EUR reduced price*. These rates are good until June 18.
*Reduced price: for people under the age of 25 (ID card required as proof); job seekers; beneficiaries of RSA, ASPA – solidarity allocation for the elderly, and AAH – allocation for disabled adults (proof dated within the past 6 months). For season's pass-holders of: CinéPass Pathé, Bonlieu Scène nationale, L'Auditorium Seynod; members of the Cinéma Le Mikado, Le Brise Glace, FOL74, LCE74 and Le Groupement (valid pass or membership card).
Buy you Pass grand public right now to benefit from an entire week dedicated to animation at the Annecy International Animation Film Festival!