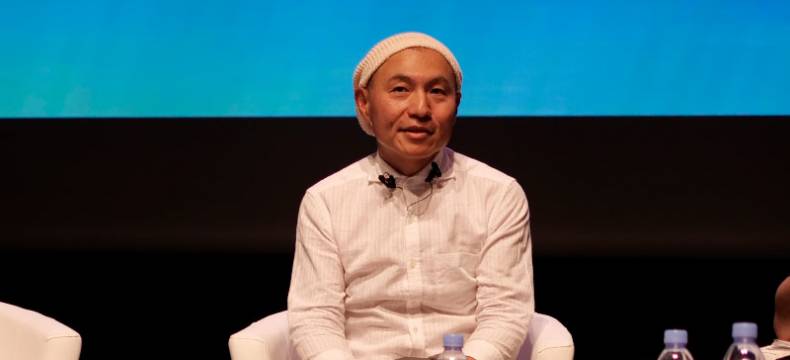 13th Apr 2022
Masaaki Yuasa, the Mifa Campus Patron
Every year, the International Animation Film Market (Mifa) dedicates a full day to young animators and students. An iconic personality from the world of animation brings support to this Mifa Campus, and in so doing transmits inspiration and encouragement to those attending. Esteemed japanese Director Masaaki Yuasa has accepted to be the patron of this new edition, to be held on Friday 17th June. At the same time, he will be presenting his highly anticipated latest film INU-OH at a Screening Event.
Following in the footsteps of Mexican Guillermo Del Toro, American Richard Williams, Irish Nora Twomey and Franco-Ivoirian Marguerite Abouet, is Masaaki Yuasa, Japanese Director of Mind Game, and in particular awarded the Cristal for a Feature Film in 2017 for Lu Over the Wall, will be coming lakeside to discuss with the future talents.
An Extraordinary Masterclass
On Friday 17th June, those participating in the Mifa Campus will be lucky enough to attend a Masterclass with one of the most inspiring contemporary directors.
This is a unique opportunity to dive into the lavish world of Masaaki Yuasa, a virtuoso of motion and an iconoclast in visual storytelling. Anime Limited, distributor of Yuasa's many films and TV shows in France and the UK, describes the director as "animation's most psychedelic mind". The Anime Limited staff has seen firsthand how powerful Mr. Yuasa's works have affected audiences across theatrical screenings, fan conventions, and festivals in the country and are eager for him to share even greater insights with the young animators and enthusiasts at Mifa.
In an hour-long presentation, director Yuasa will describe his journey, his influences and he will share his rich filmography experience of more than twenty series and feature films.
About Masaaki Yuasa
Animated film director Masaaki Yuasa was born in Fukuoka prefecture, Japan in 1965. He made his feature-length debut in 2004 with Mind Game, which won awards in Japan and overseas, including 6 prizes such as Best Film, Best Director, and Best Script, at the 2005 Fantasia International Film Festival.
His film Lu Over the Wall won the Cristal for Best Feature Film at the 2017 Annecy International Animation Film Festival. His latest film Ride Your Wave won the Award for Best Animated Feature Film at the 2019 Sitges International Fantastic Film Festival and was also nominated for a 2021 Annie Award. In addition, his latest series Japan Sinks: 2020 won the Jury Award for a TV Series at the 2021 Annecy International Animation Film Festival.
His other major works include Ping Pong: The Animation, Night Is Short, Walk on Girl, Devilman: Crybaby, and Keep Your Hands off Eizouken!
Discover the full Mifa Campus programme in May.
INU-OH as an Official Special Screening Event
Masaaki Yuasa is a regular at the Annecy Festival, who has loyally followed his work for many years.
After his Cristal for a Feature Film in 2017 for Lu Over the Wall, director Yuasa once again receives an award in 2021 for the TV Series Japan Sinks: 2020. He is also in the Feature film competition in 2019 with Ride Your Wave, and unveils his new Feature film INU-OH in a 2020 WIP, presenting its prologue in a Preview in 2021.
Needless to say, the Annecy Festival public can't wait to see this highly anticipated Screening Event of his work celebrating the freedom of art. It marks his reunion with Taiyo Matsumoto (Tekkonkinkreet, Sunny, etc.) as a character creator, a few years after their successful collaboration on the series Ping Pong: The Animation, adapted from the famous manga work.
Synopsis
Inu-oh was a real-life Sarugaku Noh performer who enjoyed great success in 14th century Japan. Nowadays he is unknown because there are very few documents about his life that have survived. Today, almost 600 years later, this INU-OH project, full of music and dance sequences, portrays a tale of friendship between the legendary Inu-oh and a Biwa player he befriended. It is based on the novel Heike Monogatari: Inu-oh no Maki (The Tale of the Heike: The Inu-oh Chapters) by Hideo Furukawa, published in France by Philippe Picquier publishers under the title Le Roi Chien.
INU-OH will be released in Japan on 28th May and soon to be distributed in France and in UK by Anime Limited.
About Anime Limited
Based out of Glasgow, Anime Limited is Europe's premiere distributor for Japanese animation, renowned for bespoke collector's editions of fan-favourite anime and soundtracks, connecting Western audiences with creators across languages and oceans, and helping to bring anime front and centre in cinemas.
Anime Limited proudly produces releases from the biggest franchises in anime including Cowboy Bebop, Attack on Titan, Neon Genesis Evangelion, Mobile Suit Gundam, Tokyo Ghoul, Your Name, Weathering With You, Belle, Mirai and Jujutsu Kaisen.