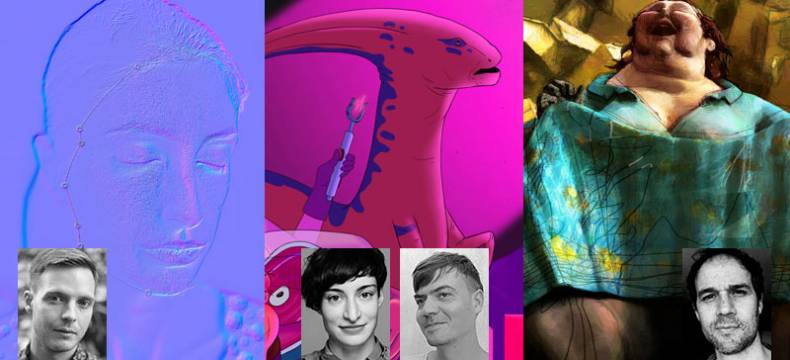 30th Nov 2021
3 projects selected for the Annecy Festival Residency
Congratulations to the animation feature film project leaders who were selected to join the second Annecy Festival Residency.
Starting in April, three new project leaders will join the Annecy Festival Residency 2022 where they will be assisted in the graphic development of their animation feature films. Inside the Papeteries – Image Factory, they will benefit from a suitable working environment, a dedicated mentor, and assistance from our CITIA teams.
Among the 30 projects received during the summer, 11 of which led by women, the selection committee comprising: Sara Wikler (Artistic Film Producer, Blue Spirit, Script Consultant), Damien Brunner (Producer, Folivari), Éléa Gobbé-Mévellec (Director), Laurence Petit (Distributor, Haut et Court) and Jérémy Clapin (Director), chose the following:
Deep Fake by Ismaël Joffroy Chandoutis (France). The story about a fictious virtual world, also known as a metaverse.
Dino Doom on Desert Planet by Zsuzsanna Kreif and Balázs Turai (Hungary). A catastrophic love story between a humanoid slave and a teenage meteor girl.
Hanta by Emilio Ramos (Mexico). The story about freedom seekers. It is also the story about those who are silenced, imprisoned, and killed.
Congratulations to the directors of these feature films whose biographies and film synopses you can discover on the Annecy Festival Residency 2022 web page.
You can also discover their notes on what they intend to implement during the Residency to further their films' graphic development.
> More info
The Région Auvergne-Rhône-Alpes, the Département de la Haute-Savoie, the Drac and the CNC continue supporting the Residency for this second edition, and this year they are joined by Netflix.
In a few weeks' time, the mentors, who will be providing tailor-made assistance to each of the projects, will be announced. Keep checking the Annecy Festival Residency page to know more and rediscover the projects who were selected for the first edition.