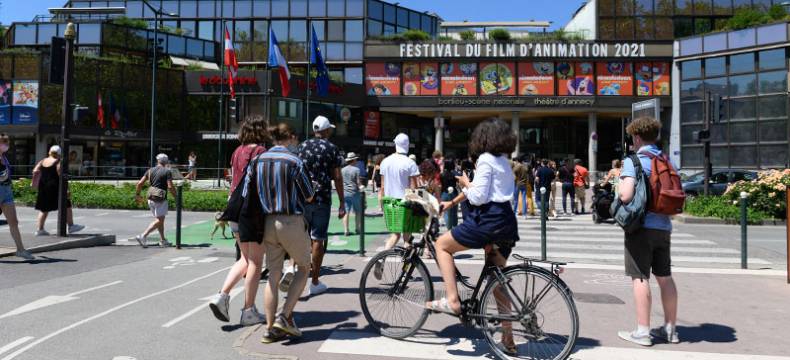 24th Jun 2021
2021 Report: The Annecy Festival's Revival
Passion, creation, reunions, and so much more! The 1st large international cultural event to welcome the public in France, Annecy 2021 made the city swing in rhythm to its Festival!
As a reflection of our industry's sector, which adapted to the exceptional situation we are experiencing with an agility that enabled both talents and the industry to continue the pursuit of their activity and current projects, we dreamed up this unprecedented event.
The number of feature films in competition was historic, and the meetings programme was exceptional, both at the Festival and the Mifa. Professionals' had renewed confidence, major studios reserved great premieres just for us, and the Village du Festival filled with events especially for the general public… Dynamics were restored!
Almost 8,500 badgeholders were present this year, 50% on-site and 50% online! The Mifa represented 2,336 badgeholders including 325 buyers, distributors and investors.
In total, there were nearly 240 screenings organised on-site and 12,897 viewing hours were counted from our online badgeholders.
An edition rich in content with close to 85 Mifa events presented online comprising 20 Pitch sessions, 8 Recruiters Talk sessions, 11 Focus sessions, 46 Meet the… sessions and 4 Press Conferences.
The Festival enjoyed more than 72 on-site and online events comprising 30 Conferences, 16 Work in Progress, 13 Studio Focus, 6 Demo Sessions, 4 Making of, 2 Masterclasses and 1 Keynote.
To extend the pleasure of this year's edition, 105 events (WIP, Pitches, etc.) are available on replay to badgeholders until 31st December 2021 and some programmes are available on replay to Mifa badgeholders until 31st December 2021.
And for the very first time in the history of the Festival, 2 female directors received awards in the Feature Films category this year. In 60 years, films directed by women in the Official Selection have gone from 9% to nearly 45%.
Thanks to all those who worked tirelessly alongside us for this edition's success: film crews, project leaders, volunteers, badgeholders, service providers, institutional, media and private partners.
We look forward to seeing you on 13th to 18th June 2022 for the next edition, which will be celebrating Swiss animation!