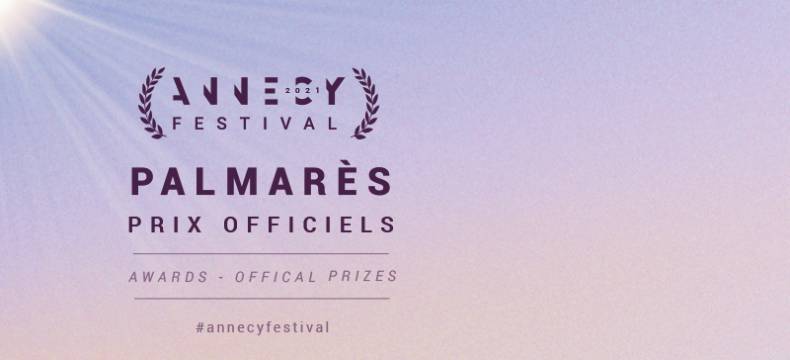 19th Jun 2021
2021 Official Prize Winners
After a week of competition, the winners are at last revealed!
Thanks to the participants and partners who were present for this first ever hybrid edition! You were more than 8000 badgeholders to join us virtually or physically to celebrate both our 60th anniversary and African animation.
The jury awarded the competition's 20 official prizes during the Closing Ceremony on Saturday 19th June.
Find out who the 2021 winners are:
FEATURE FILMS
> OFFICIAL
Cristal for a Feature Film
Flee
Jonas POHER RASMUSSEN
Denmark, France, Norway, Sweden
SUN CREATURE STUDIO, FINAL CUT FOR REAL, VIVEMENT LUNDI !, MER FILMS, MOST FILM
Jury Award
My Sunny Maad
Michaela PAVLÁTOVÁ
Czech Republic, France, Slovakia
SACREBLEU PRODUCTIONS, NEGATIV S.R.O., BFILM, LTD.
Jury Distinction
The Crossing
Florence MIAILHE
Germany, France, Czech Republic
LES FILMS DE L'ARLEQUIN, BALANCE FILM GMBH, MAURFILM S.R.O., XBO FILMS
Gan Foundation Award for Distribution
Flee
Jonas POHER RASMUSSEN
Denmark, France, Norway, Sweden
SUN CREATURE STUDIO, FINAL CUT FOR REAL, VIVEMENT LUNDI !, MER FILMS, MOST FILM
> CONTRECHAMP
Contrechamp Jury Distinction
Bob Cuspe – Nós Não Gostamos de Gente
Bob Spit – We Do Not Like People
Cesar CABRAL
Brazil
COALA FILMES
Mention du jury Contrechamp
Archipel > Archipelago
Félix DUFOUR-LAPERRIÈRE
Canada
EMBUSCADE FILMS
SHORT FILMS
Cristal for a Short Film
Écorce > Peel
Samuel PATTHEY, Silvain MONNEY
Switzerland
DOK MOBILE
Jury Award
Easter Eggs
Nicolas KEPPENS
Belgium, France, The Netherlands
ANIMAL TANK, KA-CHING CARTOONS, MIYU PRODUCTIONS
Jury Distinction "Special Distinction for Direction"
Affairs of the Art > L'Art dans le sang
Joanna QUINN
United Kingdom, Canada
BERYL PRODUCTIONS INTERNATIONAL LTD., ONF – OFFICE NATIONAL DU FILM DU CANADA
"Jean-Luc Xiberras" Award for a First Film
Hold Me Tight
Mélanie ROBERT-TOURNEUR
Belgium, France
VIVI FILM, LA CLAIRIÈRE PRODUCTION
"Off-Limits" Award
Tunable Mimoid
Vladimir TODOROVIC
Australia
HOOPSNAKE STUDIO
TV AND COMMISSIONED FILMS
> TV FILMS

Cristal for a TV Production
Vanille
Guillaume LORIN
France, Switzerland
FOLIMAGE, NADASDY FILM SARL
Jury Award for a TV Series
Japan Sinks: 2020 "The Beginning of the End"
Masaaki YUASA
Japan
SCIENCE SARU INC.
Jury Award for a TV Special
Mum Is Pouring Rain
Hugo DE FAUCOMPRET
France
LAÏDAK FILMS, DANDELOOO
> COMMISSIONED FILMS
Cristal for a Commissioned Film
Kai "A Little Too Much"
Martina SCARPELLI
USA
Jury Award for a Commissioned Film
Hjelp, vi har en blind pasient > Help! We Have a Blind Patient
Robin JENSEN
Norway
MIKROFILM AS
FILMS DE FIN D'ÉTUDES
Cristal for a Graduation Film
Hippocampus > Hippocampe
Réalisateur
Zehao LI
China
CHINA ACADEMY OF ART
Jury Award
Avant
Marcell MOSTOHA
Hungary
MOME – MOHOLY – NAGY UNIVERSITY OF ART AND DESIGN
Jury Distinction "Outstanding Art Direction"
La Confiture de papillons > Butterfly Jam
Shih-Yen HUANG
France, Taiwan
ENSAD – ÉCOLE NATIONALE SUPÉRIEURE DES ARTS DÉCORATIFS
VR WORKS
Cristal de la meilleure œuvre VR
Replacements (Penggantian)
Jonathan HAGARD
Germany, Indonesia, Japan
KAMPUNG AYU
Congratulations to one and all, and a huge thank you to the members of the jury!
We look forward to seeing you on 13th to 18th June 2022 for the Festival's new edition, which will shine its spotlight on Swiss animation talents!