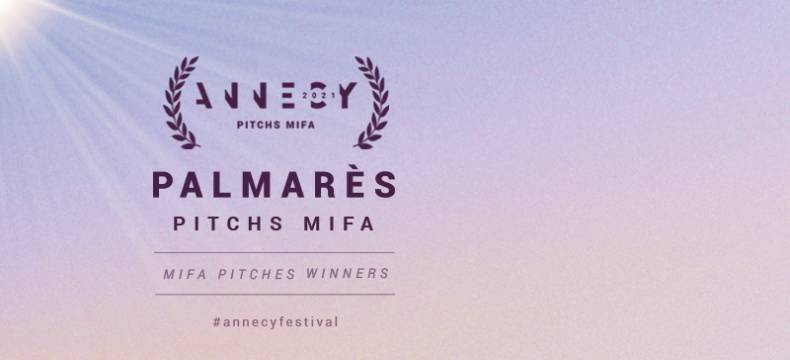 17th Jun 2021
2021 Mifa Pitches Awards
Discover all the winners of the 2021 Annecy Festival's Mifa Pitches!
As part of this Annecy International Animation Film Festival's hybrid edition, the Mifa Pitches project leaders once again gave their best in the form of video pitches.
Among the 433 projects submitted, 36 were selected by our expert committees and benefitted from remote coaching. As the Mifa draws to a close, discover the winners of the 2021 Mifa Pitches below:
Short Films
Arte France Prize
Gigi
Cynthia CALVI
France
Auvergne-Rhône-Alpes Cinéma/Bourse des festivals Prize
Signal
Mathilde PARQUET, Emma CARRÉ
France
Ciclic Prize
Margarethe
Lucas MALBRUN
Germany, France
Ciclic Prize (Animation du monde)
Pasos para volar
Steps to Fly
Nicolás CONTE
Argentina
NEF Animation Prize
Rajskie Ptaki
The Birds of Paradise
Tomek DUCKI
Poland
Open Workshop Prize
"two ice creams, please"
Jasmine ELSEN
Belgium
SACD Prize
Sulaimani
Vinnie BOSE
France
Prix Folimage (label Animation du monde)
Zanadrano
Enfant de l'eau
Ridha ANDRIANTOMANGA
Madagascar
TV Series and Specials
Ciclic Prize
TitraFilm Prize
Pour exister
What It Takes
Fabien CORRE, Kelsi PHUNG
France
Ciclic Prize
Papa et moi
Dad and I
Olesya SHCHUKINA
France
Studios Alhambra Prize
TitraFilm Prize
L'Ourse et l'Oiseau
Bear and the Bird
Marie CAUDRY
France
Disney+ Prize for a New Series (Animation du monde)
Kuttan the Medicine Boy
Anand BABU
India
Digital Experiences
SACD "Interactive" Prize
Empereur
Emperor
Marion BURGER, Ilan COHEN
France
Feature Films
Ciclic Prize
In Waves
Phuong Mai NGUYEN
France

Porcelain Birds
Les Oiseaux de porcelaine
Max PORTIER, Ru KUWAHATA
France
Cristal Publishing Prize
Flow
Gints ZILBALODIS
France, Latvia
TitraFilm Prize
Sidi Kaba et la Porte du retour
Sidi Kaba and the Gateway Home
Rony HOTIN
France
We would also like to thank all our partners who awarded these projects as well as the SACD, the 2021 Mifa Pitches official partner.
Discover in the video the reasons why they chose these projects:
Congratulations to all, and we look forward to seeing these projects finalised and screened at a future Annecy Festival edition!
Mifa badgeholders can look at the Pitches until 31st December 2021 in our Video Library.