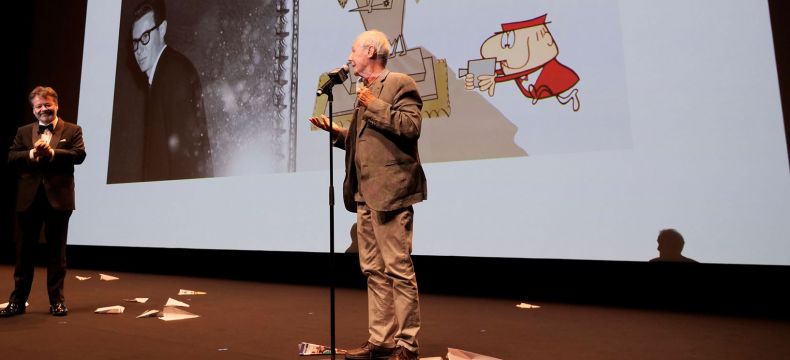 15th Jun 2021
Bruno Bozzetto Receives the Honorary Cristal
As part of the Annecy Festival's 60th anniversary and the rescreening of the short film "An Award for Mr. Rossi", Marcel Jean presented the 2021 Honorary Cristal to Bruno Bozzetto.
"In 1960, Bruno Bozzetto was already present at Annecy with his film An Award for Mr. Rossi, and at the young age of 22 he had the opportunity to meet filmmakers in competition alongside him whose names are now legendary: Břetislav Pojar, Friz Freleng, John Halas, Dušan Vukotić, Norman McLaren, etc.
Winner of the Winsor McCay Award presented by the ASIFA-Hollywood in 1982, the Short Film Golden Bear award in Berlin for Mistertao in 1990, the Animafest Zagreb's Lifetime Achievement Award in 1998, and Oscar-nominated in 1991 for Grasshoppers, Bruno Bozzetto duly became Italy's most iconic animation filmmaker, his feature film Allegro non troppo rose to the rank of being an ultimate classic in the history of animation.
It is with great emotion that the Annecy International Animation Film Festival presents him with the Honorary Cristal as part of the event's 60th anniversary."
Marcel Jean
Artistic Director
After Jean-François Laguionie, Isao Takahata, Florence Miailhe, and Brad Bird, it's Bruno Bozzetto's turn to join the list of prestigious animation figures who have received the Annecy International Animation Film Festival's Honorary Cristal.