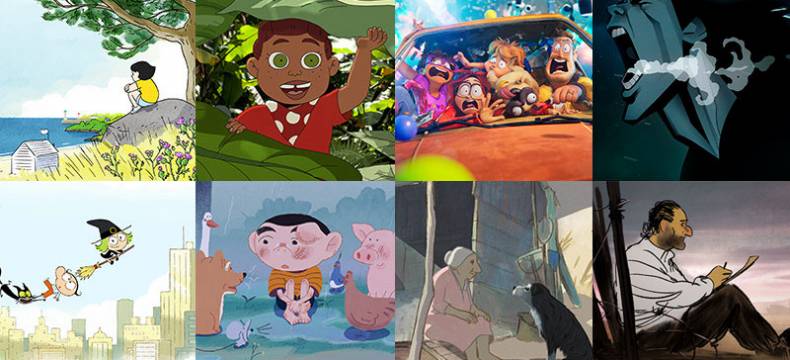 9th Jun 2021
The Partners' Cartes blanches for the Festival!
Exclusive and bonus content from "in-house productions", our partners complete the Annecy Festival's official programming, for even more animation!
Check out what's on this online programme offer on 14th to 19th June:
Carte blanche France Télévisions
Two concepts for this Carte blanche from our official partner France Télévisions:
A look back at the history of animation over the past 20 years with a selection of 5 notable short films from La Poudrière.
Animation specials: France Télévisions has a dynamic policy regarding this format to create original universes, tell stories and discover new talents. Exclusive extracts such as Moules-Frites; Drôles d'oiseaux; The Long Long Holiday; Vanille; and My Life in Versailles.
Carte blanche Netflix
Discover the featurettes "The Mitchells vs the Machines": Behind the Animation and "Love Death + Robots": Inside the Animation, but also trailers for Vivo; We the People; America: The Motion Picture; Japan Sinks: 2020 – The Beginning of the End; Wish Dragon; City of Ghosts; Big Mouth Season 4 and lastly, Annecy 60th Anniversary Greeting.
Carte blanche CANAL+
A unique programme with episodes from the series: Arthur and the Children of the Round Table Season 2; Zouk la petite sorcière; Molang Season 5; Little Furry Season 2; but also some short films: A Lynx in the Town (Folimage 2019 residency), Kiko and the Animals (Folimage 2020 residency); Tobi and the Turbobus, CANAL+family's big favourite at the Clermont-Ferrand Festival, and lastly the trailers for The Upside-down River, The Scarlet Rose, Kididoc and The Kiddycrunchers.
Carte blanche OCS
Discover the poetic film Louise by the shore by Jean-François Laguionie, and a selection of the best animation short films for children available on OCS and made in 2D and 3D by students from prestigious animation schools such as the GOBELINS, l'école de l'image, or the Ensi, l'école des nouvelles images, such as:
Trésor
You Sold My Rollerskates?
Sous la glace
Hot Dog
Maïja
Thermostat 6
Mémo
Carte blanche Fondation Gan
Professional accounts: relive Claude Barras or Rémi Chayé's emotions during the Annecy Awards Ceremony, receive masterclasses from Aurel, Lorenzo Mattotti, Michaël Dudok de Wit, Alexandre Espigares, Simon Rouby, Joann Sfar, and find out all about Florence Miailhe and Patrick Imbert's future projects!
This content is accessible to all badgeholders from 14th June, check it out as soon as you can!
If you don't have your accreditation yet, come this way!