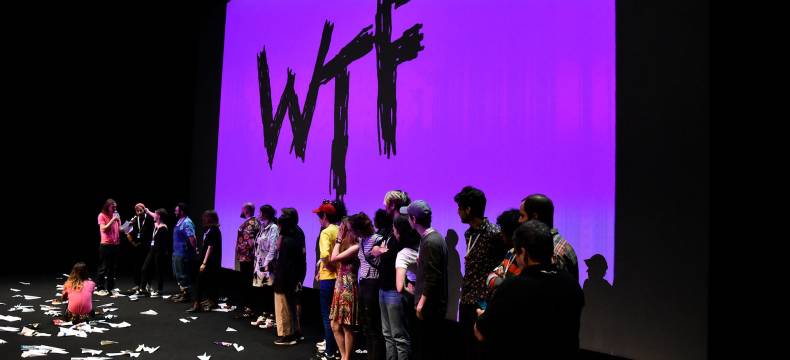 31st May 2021
Annecy Reveals its Juries and Highlights!
Just 15 days away from an exceptional edition (on-site and online), Annecy reveals its juries and completes its programme.
Special Programmes, Previews and Conferences complete the Annecy 2021 offer. One thing is certain, the week starting 14th June will be overflowing with animations!
An outstanding jury!
To assign the Feature Film category's Cristal, the Festival will be greeting the following jury:
Serge BROMBERG (Producer – Lobster Films – France, former Artistic Director of the Festival for nearly 15 years)
Caroline VIÉ (Journalist – 20 Minutes – France)
Rémi CHAYÉ (Director – France, winner of the 2020 Cristal for a Feature Film, Calamity, A Childhood of Martha Jane Cannary)

Serge BROMBERG / Caroline VIÉ / Rémi CHAYÉ
Special Programmes
The Midnight Specials, the "almost" late night screenings and just as off-the-wall as ever, will be waiting for you every evening at 8:30 pm at the Pathé Annecy. On the programme:
America (broadcast by Netflix), a biting satire on the American Revolution,
The Spine of Night, an epic fantasy by Philip Gelatt and Morgan Galen King,
Canvas, a horror film by Ryan Guiterman.

America / The Spine of Night / Canvas
The WTF Programme, led by our programmer Sébastien Sperer, is back! An off-the-wall contemptuous programme, not for the faint-hearted!
Annecy Classics, timeless films that have made their mark on animation's history will be screened as well as the documentary Claydream (presented at Sundance 2021).
The Previews
Launched in 2020, this new format gives you the chance to meet leading directors and discover exclusive clips of their films before they are released internationally. This year, 2 films are giving us this honour:
Inu-Oh, the new project by Masaaki Yuasa,
Space Jam 2, by Malcolm D. Lee (Warner Studios).
Professional Conferences
Be inspired and stimulate your ideas about contemporary and future animation issues by attending the ten online Festival Conferences.
Discover the perspectives and advice from around fifty esteemed speakers, such as Tomm Moore, Michael Dudok de Wit and Sofia Alexander who will talk about the influences of Japanese animation on their creations, and Félicie Haymoz, Deborah Cook, Emron Grover and Neysa Bove who will fuse the bridge between fashion and animation.
All the details about the conferences are here:
Check out the Conferences programme
To be able to benefit from all these highlights, remember to get your accreditation!