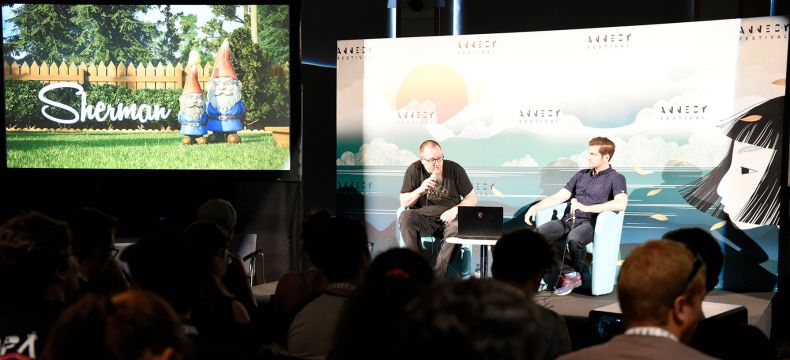 26th May 2021
The 2021 inspirational and innovating meetings at Annecy!
Do you want to be inspired? A choice between creation, technique, innovation and training, the 2021 menu is full to bursting, why don't you take a look!
The irrefutable added value at the Annecy International Animation Film Festival and Market has to be these professional meetings. The sheer generosity with which internationally renowned studios and experts supply information to the lucky participants is without doubt the primary reason. Discover the programme in store for you!
Studio Focus
13 virtual Studio Focus will punctuate the Annecy week according to announcements and tributes.
Notably among them, Netflix will be present with 4 sessions whose surprises and exclusives will take pride of place. DreamWorks Television will dive into the world of their next feature film Trollhunters: Rise of the Titans, the final installment of the Tales of Arcadia trilogy. The Disney group with several presentations including live online Q&As.
New participating studios who will be joining this fabulous programme are:
The NFB
CBS Studios and Paramount+
Tencent
Cinesite
Toei Company, Ltd
Women in Animation World Summit
As every year since 2017, the Mifa hosts the Women in Animation International Meetings. And as always, the programme's rich and thoughtful discussions on current events reflect its esteemed line-up of speakers!
Partners Conferences
Whilst waiting for the Mifa Conferences programme, which will be announced shortly, here is what our partners have in store:
Unifrance will propose three discussions concerning the international challenges of French animation film: the emergence of a new generation of women directors, broadcasting animation film at African festivals and writing for an international audience.
The director of the Japan Media Arts Festival invites three directors from leading international festivals to share their visions on animation's current intensity and its future development, in particular via other forms of art such as video games.
Auvergne-Rhône-Alpes In Motion (AIM) will bring together the Artefacts (video games) and Albyon (animation, VFX and VR) studios to present an overview of the creative and technical opportunities possible between the video game and animation sectors. Session followed by a live Q&A.
ALICE (Animation League for Increased Cooperation in Europe) will present their interregional cooperation methodology aimed at developing a new, more collaborative, model so that SMEs can expand, recruit and innovate. Session followed by a live Q&A.
Demo Sessions
Used to experimental presentations, the Demo Sessions take to the virtual scene with 6 technical and creative showcases hosted by Fatfish Lab, Unity, Xencelabs, Next Lab, Wacom and Cascade8.
Check out the programme details.
> Browse the programme
On-site or online, all the events will be available on replay until the end of summer 2021.
Remember to get your accreditation!