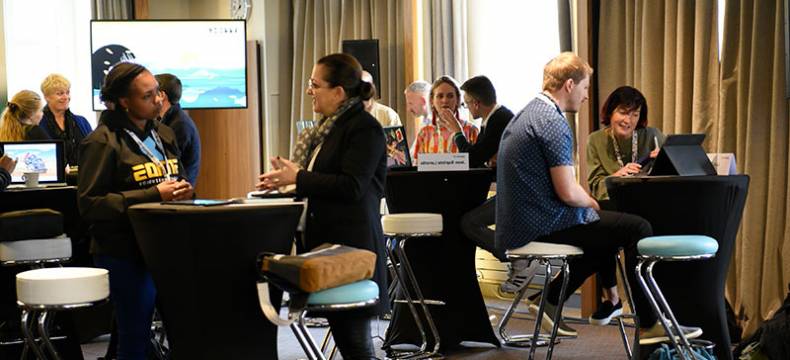 12th May 2021
A New Look for the Mifa 2021!
From 15th to 18th June discover the new Mifa 2021 hybrid edition!
In line with the Festival, the International Animation Film Market will also be celebrating Africa, with a programme in line with the Institut français' Africa2020 Season! Project pitches, panel discussions, targeted meetings and discussions with renowned professionals from this continent.
To find out more, look here!
In order to assist animation professionals across the world, the Mifa has prepared a 2021 edition that is adapted to the current context, by way of a hybrid formula. On-site, the Impérial Palace will offer companies exhibition spaces as well as meeting and viewing areas to aid exchanges, all with reinforced health protocols. Online, our Annecy Network tool is also available to create your virtual stand and to be able to connect live with other professionals via the dedicated virtual lounges.
Whichever you choose, a rich and eclectic programme awaits all participants:
Mifa Pitches: 36 unique projects reflecting uninhibited creativity, galvanized by their storytelling and aesthetic diversity from all over the world.
Partners Pitches: More than 70 projects spread across 13 sessions, each one identified by its geographical zone.
For more information about the 2021 Pitches
New! Line-ups: discover the many company or delegation line-ups, reunited in playlists in our Video Library, that will be added to the completed projects and productions.
Meet the…: one-on-one meetings with the Talents, festival programmers, book publishers as well as producers (Gap Financing). 3 new schemes will be enriching this year's format: Meet the… Buyers, Meet the… Composers – 3rd Character (in partnership with the Sacem, the Mifa is collaborating with the Festival International du Film d'Aubagne - MUSIC&CINEMA), and lastly Meet the… Authors (in partnership with the AGrAF).
Focus: Come and discover a country or a continent's ecosystem, an association or a scheme's latest news, to have a global understanding of the animation industry: the Baltic states, United Kingdom, Greece, China, Korea, etc. will be on the programme, as well as the Asifa's 60th and a focus on the animation Residencies.
Recruitment – New Formula: take advantage of a Virtual Recruitment Area and reveal your studios' working environment, thanks to a special virtual stand and Recruiters Talk sessions. On the programme from 15th June: Nickelodeon, Netflix, Laika, GO-N, Lighthouse and more.
Mifa Campus: rendezvous Friday 18th June to attend this event dedicated to students and young talents, which will reunite among others, the School of Visual Arts, Disney, Nickelodeon, Cinesite, RECA, VIPO, the Paris-Lyon-Singapore project and their student films. After Nora Twomey in 2019, another female will be bringing her support to Mifa campus! Her name will be revealed soon (in partnership with Unity).
Video Library: take advantage of the Viewing Platform that is accessible until 31st December 2021.
Don't delay, get your accreditation today!