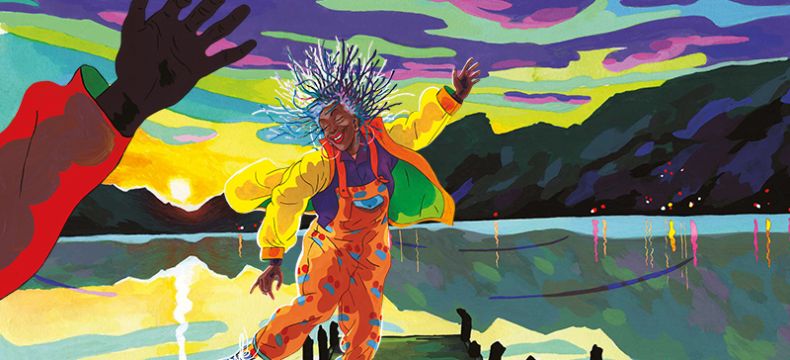 1st Mar 2021
The Festival Poster is revealed!
Energy, joy and a luminous horizon for the 2021 Annecy Festival and Mifa poster!
The Annecy Festival really wanted to call upon Jean-Charles Mbotti Malolo again to do the 2021 poster.
After a completely online 2020 edition, the tribute to animation from the African continent and the Festival's 60th anniversary were rescheduled for this year, we wanted this explosion of colours and energy again that brought the lakeside to life in our poster last year. Let's hope they can once again vibrate throughout the city this June!
"Annecy loves supporting creators. It's an integral part of our DNA. Jean-Charles Mbotti Malolo is a regular at Annecy and his latest film Make It Soul, presented at the 2018 Festival, summarised the festive and energetic spirit of the event. We will remember when Jean-Charles and his friends invaded the stage to dance joyously as the credits finished rolling out, carrying the spectators along for the ride. This poster is also a reminder of this magical moment that only Annecy holds the secret."
Marcel Jean, Artistic Director
"I am immensely honoured to work on the poster again for the 2021 edition.
I would really have loved to collaborate a second time with Simon Roussin, like last year, but he was already committed to a personal project.
I felt the need to do this poster on paper, maybe to push myself to return to a more traditional art form on a daily basis, but also because screens have taken up even more place in our lives since the current health crisis began.
The theme is similar to 2020, so I kept to our guideline, the pantsula, a traditional South African dance that symbolises the modern view I have of Africa.
I wanted to link this with a unique character: an older woman, independent, free and joyous, who is enjoying the sun's rays reflecting on the lake.
Last year's Festival was online, let's hope we can all join the pantsula dancers on the Annecy pontoons this June 2021!"
Biography
Jean-Charles Mbotti Malolo
Born in Lyon in 1984, Jean-Charles studied at the École Émile Cohl in the filmmakers' section and graduated in 2007 with a commendation from the jury.
His graduation film The Heart is a Metronome won the prize for Best First Film at the Hiroshima Festival in 2008.
Drawing is his prime passion, but dance has always been a part of his means of expression. He joins the Stylistik dance company in 2008. In June 2012, Jean-Charles learns sign language so he can write and direct The Sense of Touch, under the friendly watchful eye of Emmanuelle Laborit. This second short film, combining the aesthetics of dance and sign language, receives more than 20 international awards, among over 60 festival official selections.
Les Mots is the first stage show choreographed by Jean-Charles – a solo for two performers – that sees the light of day in early 2017. He continues this working journey using non-verbal communication.
His last film, Make It Soul, with Simon Roussin's graphics, is designed to pay tribute to the essence of African-American music, by reviving Solomon Burke and James Brown. It was nominated for the César for Best Short Animation Film 2020.
He is currently working on a hybrid documentary series (animation and live shots).
Download the Annecy 2021 Poster
The Annecy Festival team is working on a hybrid edition that will be held from 14th to 19th June. We are in the process of finalising the on-site and online offers, and various access formulas that will be presented when accreditations open in April.