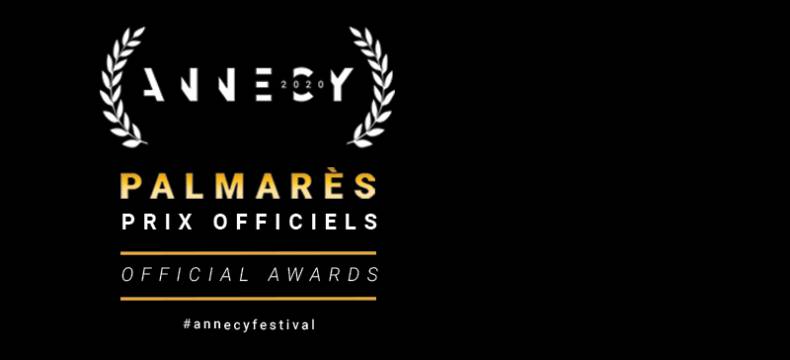 20th Jun 2020
See the 21 Official 2020 Award Winners!
Symbolically, the Festival's management wanted to keep the usual date for the Awards Ceremony on 20th June. It's done!
Relive the ceremony virtually with Mickaël Marin, Marcel Jean and all the winners on our YouTube channel!
OFFICIAL PRIZES ANNECY 2020
Cristal for a Feature Film

Calamity, a Childhood of Martha Jane Cannary

Rémi Chayé
France, Denmark
MAYBE MOVIES, NORLUM
Jury Award

The Nose or the Conspiracy of Mavericks

Andrey Khrzhanovsky
Russia
SCHOOL-STUDIO "SHAR"
Jury Distinction

Kill It and Leave this Town

Mariusz Wilczynski
Poland
BOMBONIERKA, EXTREME OPTIONS, IAM - ADAM MICKIEWICZ INSTITUTE, EC1 LODZ - CITY OF CULTURE, LETKO, DI FACTORY, GIGANT FILMS, POLISH FILM INSTITUTE
Contrechamp Award

My Favorite War

Ilze Burkovska Jacobsen
Latvia, Norway
BIVROST FILM & TV, EGO MEDIA
Contrechamp Jury Distinction

The Shaman Sorceress

Jae-huun Ahn
South Korea
MEDITATION WITH A PENCIL
Cristal for a Short Film

The Physics of Sorrow

Theodore Ushev
Canada
NFB – NATIONAL FILM BOARD OF CANADA
Jury Award

Homeless Home

Alberto Vázquez
France, Spain
AUTOUR DE MINUIT, UNIKO ESTUDIO CREATIVO
"Jean-Luc Xiberras" Award for a First Film

The Town

Yifan Bao
China
ARC ANIME STUDIO
Jury Distinction (ex ӕquo)

Freeze Frame

Soetkin Verstegen
Belgium
AKADEMIE SCHLOSS SOLITUDE
Jury Distinction (ex ӕquo)

Genius Loci

Adrien Merigeau
France
KAZAK PRODUCTIONS, FOLIMAGE
"Off-Limits" Award

Serial Parallels

Max Hattler
Germany, Hong Kong
RELENTLESS MELT
TV AND COMMISSIONED FILMS

> TV FILMS
Cristal for a TV Production

Shooom's Odyssey

Julien Bisaro
Belgium, France
PICOLO PICTURES
Jury Award for a TV Series

Undone "The Hospital"

Hisko Hulsing
USA
AMAZON PRIME VIDEO, TORNANTE PRODUCTIONS, LLC, SUBMARINE
Jury Award for a TV Special

The Tiger Who Came to Tea

Robin Shaw
United Kingdom
LUPUS FILMS
Cristal for a Commissioned Film

Lucky Chops "Traveler"

Daniel Almagor, Raman Djafari
Germany
STUDIO VOGEL
Jury Award

Greenpeace "Turtle Journey"

Gavin Strange
United Kingdom
AARDMAN ANIMATIONS LTD
Cristal for a Graduation Film

Naked

Kirill Khachaturov
Russia
MOSCOW SCHOOL OF NEW CINEMA
Jury Award

Pile

Toby Auberg
United Kingdom
RCA - ROYAL COLLEGE OF ART
Jury Distinction

Sura

Hae-Ji Jeong
South Korea
KOREAN NATIONAL UNIVERSITY OF ARTS - KNUADIS - K'ARTS
Cristal for the Best VR Work

Minimum Mass

Raqi Syed, Areito Echevarria
France, New Zealand
LIKE AMBER, FLORÉAL FILMS
Jury Special Distinction

Battlescar – Punk Was Invented by Girls

Martin Allais, Nicolas Casavecchia
USA, France
ATLAS V, ALBYON, 1ST AVENUE MACHINE, RYOT, ARTE FRANCE
Watch the both ceremonies again on our YouTube Channel