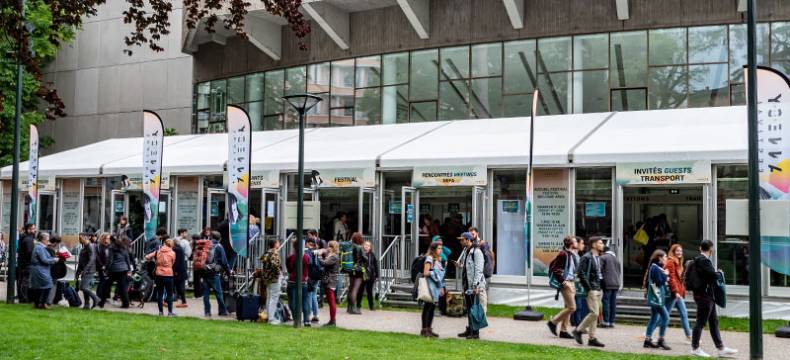 3rd Feb 2020
2020 Accreditations are Open!
Annecy Festival is celebrating its 60th anniversary this year! An exceptional edition is in store and online accreditations are now open!
The International Animation Film Festival, its Meetings and Market are expecting you from 15th to 20th June 2020 in Annecy to attend this memorable edition that is celebrating 60 years of the event.
A week which will also honour animation from the African continent that you will be able to enjoy through various events in the programming, also linked to the Africa2020 Season, an Institut français initiative.
As from today, you can choose the accreditation that corresponds best to your needs and benefit from special rates until 31st March 2020.
If you are primarily interested in the film screenings, including the official competition (Feature and Short Films; Graduation, TV and Commissioned films; VR Works), the screening events, special programmes, open-air screenings, etc.
Get the Festival accreditation!
If in addition to all the film screenings you would like to deepen your animation knowledge and decode all the production secrets revealed at the conferences, Keynotes, Making of, Work in Progress, etc.
Get the Meetings accreditation!
If the screenings and Meetings sessions interest you, but you would also particularly like to meet the animation professionals, you should attend the International Animation Film Market, the biggest international meeting place in this sector in the world.
Get the Mifa accreditation!
Early bird rates until 03/03!
Annecy Festival also offers accreditations especially for students, journalists and press officers, professionals and buyers.
Important information:
Reserve your accommodation as soon as possible.
Take advantage of My Mifa Concierge services to prepare your visit.
Registration deadline: 05/02 for Mifa Pitch projects, 15/02 for Short Films, Graduation Films, TV and Commissioned films, 15/03 for Feature Films, and lastly, 06/04 for VR Works.
Last but not least, remember the dates: The Annecy International Animation Film Festival 15th to 20th June 2020, the Meetings 15th to 19th June 2020 and the Mifa 16th to 19th June 2020.
See you in June, in Annecy!