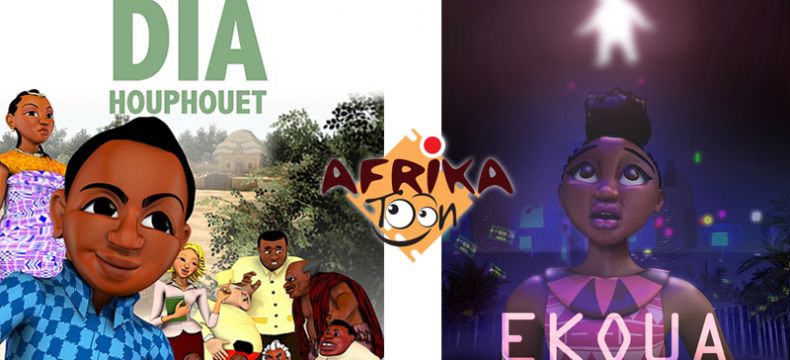 12th Dec 2019
The 1st African Animation Studio to Set Up in France
Afrika Toon, the 1st 2D/3D animation studio on the Ivory Coast is moving into Les Papeteries – Image Factory, with a dream: "to become an animation studio with worldwide renown".
Afrika Toon is a team of impassioned professionals led by Abel Kouamé sharing a common dream: "to become an animation studio with worldwide renown". Their first step to reaching their goal is to set up an Afrika Toon filial at CITIA's unique hub in Annecy, Les Papeteries – Image Factory.
From Abidjan to Annecy
Afrika Toon is one of a few animation studios in West Africa. Its main aim is to remake the African legends in 3D. Abel Kouamé has directed and produced four feature films including Pokou, princesse ashanti, produced entirely on the Ivory Coast, and several animation series such as Conte-nous ! and La Petite Pokou.
Having a subsidiary in France has two aims: to have commercial representation and a team dedicated to co-producing animated series, feature films and R&D.
According to Abel Kouamé, CEO of Afrika Toon, "this new installation turns a brand new page for the studio and is most certainly the beginning of a successful era." Accompanied by the Business France system, the studio had already explored other territories in France.
They finally decided upon Les Papeteries – Image Factory in Annecy, for its dynamism and activities for the animation sector due to CITIA's presence, who organise the Annecy International Animation Film Festival. Annecy is a dynamic region for production and there is immense potential for developing this sector and other expansion projects.
Mickaël Marin, CEO, CITIA:
"I can only rejoice at Afrika Toon studio's installation in Les Papeteries – Image Factory, which merely reinforces that Annecy is the place to be par excellence for animation and the creative industries.
This move is all the more symbolic as the creation of a subsidiary African animation studio is a first in France!
Abel Kouamé is bringing an ambitious project: CITIA and its partners will be alongside him to guarantee its success."
The entire CITIA team hopes they settle in well and enjoy a future full of exciting projects.