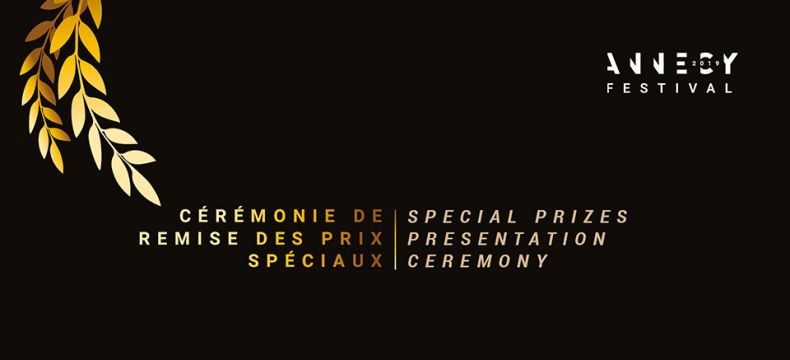 14th Jun 2019
Annecy 2019 Special Prizes
The International Animation Film Festival has just rewarded the 14 Special Prizes for 2019. These awards were presented this Friday 14th June at 6:30 pm at Bonlieu. Congratulations to all the winners!
Festivals Connexion – Région Auvergne-Rhône-Alpes Award / In partnership with Lumières Numériques & Mèche Courte
Girl in the Hallway > Fille dans le couloir
Valerie BARNHART – Canada
Junior Jury Award for a Short Film
Mémorable
Bruno COLLET – France
VIVEMENT LUNDI !
Junior Jury Award for a Graduation Film
Dcera > Daughter
Daria KASHCHEEVA – Czech Republic
FAMU, MAUR FILM COMPANY LTD.
Young Audience Award
Sarkan > Le Cerf-Volant
Martin SMATANA – Czech Republic
BFILM, LTD.
CANAL+ Young Audience Award
Grand Loup & Petit Loup > Big Wolf & Little Wolf
Rémi DURIN – Belgium, France
LES FILMS DU NORD
FIPRESCI Award
Têtard
Jean-Claude ROZEC – France
À PERTE DE VUE
Best Original Music Award for a Feature Film, sponsored by the SACEM
Buñuel en el laberinto de las tortugas
Buñuel après l'âge d'or
Arturo CARDELÚS – Spain, Netherlands
SYGNATIA FILMS, SUBMARINE
Best Original Music Award for a Short Film, sponsored by the SACEM
Tio Tomás – A contabilidade dos dias
Uncle Thomas: Accounting for the Days
Normand ROGER – Canada, France, Portugal
ONF, LES ARMATEURS, CICLOPE FILMES
Gan Foundation Award for Distribution
Josep
AUREL – France, Belgium, Spain
LES FILMS D'ICI MÉDITERRANÉE, LES FILMS DU POISSON ROUGE, LUNANIME BVBA, EJT-LABO LABORATOIRE D'ÉCRITURE ET D'IMAGES, B-WATER ANIMATION STUDIOS
Vimeo Staff Pick Award
A Year Along the Geostationary Orbit
Felix Dierich – Germany
André-Martin Award for a French Feature Film
Le Procès contre Mandela et les autres
Nicolas CHAMPEAUX, Gilles PORTE
Animation : Oerd Van Cuijlenborg
France
ROUGE INTERNATIONAL, UFO PRODUCTION
André-Martin Award for a French Short Film
Mon juke-box > My Juke-Box
Florentine GRELIER – France
NOVANIMA, GIRELLE PRODUCTION
André-Martin Distinction for a French Short Film
Flow
Adriaan LOKMAN – Netherlands, France
VALK PRODUCTIONS, DARK PRINCE
City of Annecy Award
Son of the Sea
Abbas JALALI YEKTA – Iran