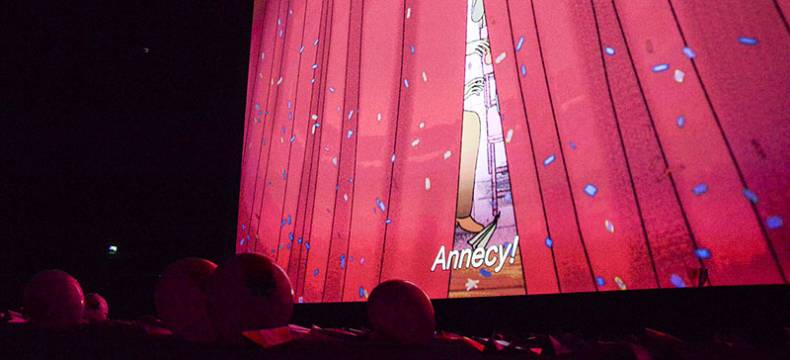 23rd Apr 2018
The full 2018 official selection!
Marcel Jean, the artistic director of the Annecy Festival, has announced the Feature Films in and out of Competition for the 2018 Festival!
This year, there were more than 3,080 films submitted to take part in the Annecy Festival official selection, which was a record figure!
Discover the list of Feature Films in and out of Competition for this year's festival!
Feature Films in Official Selection in Competition at Annecy 2018:
Funan by Denis DO – Belgium, Cambodia, France, Luxembourg
Cinderella the Cat by Ivan CAPPIELLO, Alessandro RAK, Marino GUARNIERI and Dario SANSONE – Italy
The Wolf House by Cristóbal LEÓN and Joaquín COCIÑA – Chile
Wall by Cam CHRISTIANSEN – Canada
Mirai by Mamorou HOSODA – Japan
Okko's Inn by Kitaro KOSAKA – Japan
The Breadwinner by Nora TWOMEY – Canada, Ireland, Luxembourg
Seder-Masochism by Nina PALEY – USA
Tito and the Birds by Gustavo STEINBERG, Gabriel MATIOLI YAZBEK BITAR and André CATOTO DIAS – Brazil
Virus Tropical by Santiago CAICEDO - Colombia
Feature Films in Official Selection out of Competition at Annecy 2018:
Captain Morten and the Spider Queen by Kaspar JANCIS – Belgium, Estonia, Ireland, United Kingdom
Cats and Peachtopia by Gary WANG – China
Chris the Swiss by Anja KOFMEL – Switzerland
Chuck Steel: Night of the Trampires by Mike MORT – United Kingdom
Hoffmaniada by Stanislav SOKOLOV – Russia
Kikoriki: Déjà Vu by Denis CHERNOV – Russia
The Tower by Mats GRORUD – France, Norway, Sweden
Liz and the Blue Bird by Naoko YAMADA – Japan
The Last Fiction by Ashkan RAHGOZAR – Iran
Maquia – When the Promised Flower Blooms by Mari OKADA – Japan
Marnie's World by Christoph LAUENSTEIN and Wolfgang LAUENSTEIN – Germany
North of Blue by Joanna PRIESTLEY – USA
On Happiness Road by Hsin-Yin SUNG – Taiwan
The Angel in the Clock by Miguel Ángel URIEGAS – Mexico
A Man is Dead by Olivier COSSU – France
The official selection of Short Films, TV and Commissioned Films, and VR@ANNECY has already been announced. You can see it online.
The first parts of the programme of the Festival, Meetings and the Mifa have also just been revealed.
To find out all there is to know about the 2018 Annecy International Animation Film Festival, the Market and Meetings, you can have a look at the Press Kit page and download the press pack.
Last but not least, don't forget to get accreditation online before 31st May in order to take part in the Festival between 11th and 16th June , the Meetings between 11th and 15th June, and in the Mifa from 12th to 15th June 2018!