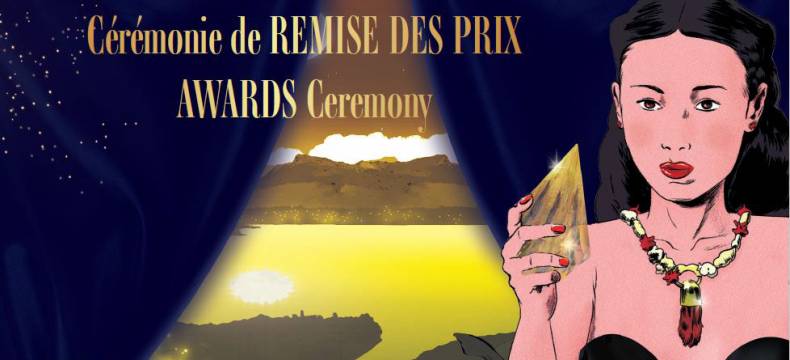 17th Jun 2017
Annecy 2017: Award Winners from the 41st Festival
The closing ceremony has just revealed the winners for Annecy 2017. Who's been crowned? Check out the list right now!

To wind up these six days of intense screenings, rich in discoveries and emotions, the annual closing ceremony has just revealed the much awaited winners of Annecy 2017. Alternating between prizes and surprises with exclusive screenings of such shorts as the world premiere of Genndy Tartakovsky's Puppy! or Jean-Pierre Jeunet and Romain Segaud's Two Snails Set Off, the evening rewarded a host of short films and features.

Some 30 films ended up crowned with the much valued Festival awards. And who followed in the footsteps of the two Cristal winners, My Life as a Courgette and The Head Vanishes? Check out the list right now!

The entire Annecy International Animation Film Festival team would like to warmly congratulate all this year's winners!
OFFICIAL PRIZES
TV AND COMMISSIONED FILMS
> Commissioned Films

Jury Award
Moby "Are You Lost in the World Like Me?"
Steve Cutts
STEVE CUTTS
USA, UNITED KINGDOM
Cristal for a Commissioned Film
Material World
Anna Ginsburg
STRANGE BEAST
United Kingdom
> TV Series and Specials
Special Distinction for a TV Series
BoJack Horseman "Fish Out Of Water"
Mike Hollingsworth
TORNANTE PRODUCTIONS, LLC
USA
Jury Award for a TV Series
The Man-Woman Case "Wanted"
Anaïs Caura
MY FANTASY / 2 P2L, FRANCE TÉLÉVISIONS NOUVELLES ÉCRITURES
France
Cristal for a TV Production
Revolting Rhymes Part One
Jakob Schuh, Jan Lachauer, Bin-han To
MAGIC LIGHT PICTURES
United Kingdom
GRADUATION FILMS
Jury Distinction
Pas à pas
Charline Arnoux, Mylène Gapp, Léa Rubinstayn, Florian Heilig, Mélissa Roux
ESMA (ÉCOLE SUPÉRIEURE DES MÉTIERS ARTISTIQUES)
France
Jury Award
Summer's Puke is Winter's Delight
Sawako Kabuki
TAMA ART UNIVERSITY
Japan
Cristal for a Graduation Film
Sog
Jonatan Schwenk
HFG – HOCHSCHULE FÜR GESTALTUNG OFFENBACH AM MAIN
Germany
OFF-LIMITS SHORT FILMS
"Off-Limits" Award
Dix puissance moins quarante-trois seconde
FRANCIS
MIYU PRODUCTIONS
France
FEATURE FILMS
Audience Award
The talented Jean-Pierre Jeunet bestowed the Audience Award upon Dorota Kobiela and Hugh Welchman for Loving Vincent. The film has been a great success since its world premiere on Tuesday 13th June.
TRADEMARK FILMS, BREAKTHRU PRODUCTIONS
Poland, United Kingdom
Jury Award
In This Corner of the World
Sunao Katabuchi
MAPPA (MARUYAMA ANIMATION PRODUCE PROJECT ASSOCIATION), GENCO, INC.
Japan
Cristal for a Feature Film
Lu Over the Wall
Masaaki Yuasa
SCIENCE SARU INC
Japan
SHORT FILMS
Audience Award
Grandpa Walrus
Lucrèce Andreae
CAÏMANS PRODUCTIONS
France
Jury Distinction
The Ogre
Laurène Braibant
PAPY3D PRODUCTIONS
France
The "Jean-Luc Xiberras" Award for a First Film
The Blissful Accidental Death
Sergiu Negulici
ABIS STUDIO
Romania
Jury Award
Kötü Kiz > Wicked Girl
Ayce Kartal
LES VALSEURS
France, Turkey
Cristal for a Short Film
Min Börda > The Burden
Niki Lindroth Von Bahr
MALADE AB
Sweden
After the 2017 Festival hit the milestone with 10,000 accreditations (11% more than in 2016), we'll see you in Annecy from 11th to 16th June 2018 to pay tribute to Brazilian animation!